"A Gift for Growth"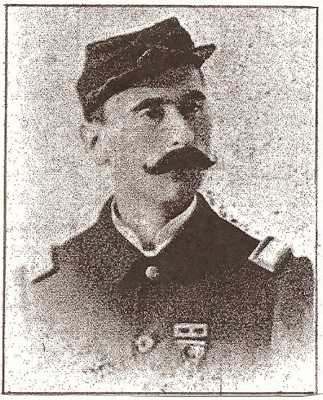 The 1902 Department Encampment was held June 10th –13th at the Stevens Point Odd Fellows Hall. Gustave Geisler was elected Dept. Commander over the incumbent, Martin Grasse of Milwaukee, and L.W. Fisher of Racine. A year earlier, at the 1901 Dept. Encampment in Sheboygan, a local movement to elect Br. Geisler had failed by a single vote. A Sheboygan member's claim that Geisler's nomination was done only as a compliment seems to have been an exaggeration.
Br. Geisler, a Sheboygan native, was born on March 2, 1863, the youngest of three children. His membership was based upon the service of his father, Adolph Geisler, a German immigrant and carpenter, who had enlisted in the 53rd Wis. Infantry at the end of the war and served in St. Louis, Mo. and Fort Leavenworth, Ks.
Gustave already had an impressive record of service at the Camp and Department levels. Sheboygan's Carl Witte Camp #37 was only five years old, but on the verge of disbandment, when Br. Geisler was elected camp commander in 1894. Members were apathetic and the camp was in debt to the tune of $64, a sizeable amount in those days. Through his push, energy, and general popularity, the Camp was resurrected, all debts paid off, and a bright future assured. Geisler was re-elected camp commander in 1895. He served as Dept. Junior Vice Commander in 1896, on the Dept Press Committee in 1897, and on the Dept. Council in 1898. Br. Geisler served as Camp #37's first sergeant in 1899. And in 1901, he was elected the department's delegate to the Nat. Encampment.
As Dept. Commander, Br. Geisler inherited a Dept. with 500 members in 17 Camps. The Order had reached the age of majority (21 years old).
During his term, the goal of placing a Camp as an auxiliary to every GAR post was pushed. Despite membership losses, new Camps were chartered at Ellsworth (Hans B. Warner #3 with 25 members) on September 2nd, Rice Lake (Lincoln Camp #20 with 39 members) on November 1st; Bloomer (Gen. L.A. Fairchild #15) on February 7, 1903; and Two Rivers (Wm. Hearst #19) on May 23rd.
Interestingly, at the GAR's Dept. Encampment, a plan was presented to organize school children into Boys' and Girls' Memorial Day Brigades. The plan had been successful in Tomah, where 100 school children had been organized, but was short-lived.
After his term of office, he returned to Camp #37, which continued to grow with the rest of the Department. In 1904, it was the largest Camp in the Department with 60 members.
In 1891, Br. Geisler organized and was the first president of the United Aid of Sheboygan, a fraternal insurance organization. He was also superintendent of the Crocker Chair Company. In 1885, he married Anna Mary Smith and they had three children: Ethel (11 Mar1894-7 Feb 1985), Arthur O. (3 Mar 1896-30 Mar 1969) and Wesley H. (3 Apr 1898-25 Mar 1984).
With the financial Panic of 1901 fresh in his memory and another in progress in 1907, he left for Corinth, Mississippi. There he became a contractor in painting and decorating. In his spare time he was a scoutmaster for his two boys.
PDC Gustave Geisler died June 27, 1930 and was buried in Corinth's Henry Cemetery.
---

Information Sources:
Ancestry.com
Find a Grave.com
Press Forward the Good Work: The History of the Wisconsin Dept. SUVCW by PCinC Stephen A. Michaels, 1997
Historical and Biographical Sketch of the Order of Sons of Veterans compiled by A.G. Braband; Radtker Bros. & Kortsch, Printers, Milwaukee 1899