When the 1901 Wis. Dept. Encampment opened in Sheboygan on June 19th, the Milwaukee Sentinel accurately predicted that 33-year old Martin Amos Grasse would be elected Commander, despite a local movement for the city's Gustav Geisler. One Sheboygan member said Geisler's nomination was done only as a compliment. There must have been more to the story because Grasse won by a single vote over Geisler. Racine's F.H.B. McDowell withdrew his name before the ballot was taken.
Grasse, a former Sheboygan boy, was now living in Milwaukee and working as a passenger agent on the Wisconsin Central Railroad. He probably garnered support from both areas. He was the first Dept. Commander who had previously served as Dept. Adjutant (1899). This gave him a unique perspective on organizing the Order's work.
Martin Grasse was the son of Sheboygan's Charles (Carl Wilhelm) and Louise Sophia Grasse, the eldest of five children. He graduated from Sheboygan High School in the class of 1884.
The elder Grasse enlisted in Co. H, 26th Wis. Inf. in August 1862. After receiving a gunshot wound in the left leg at Chancellorsville and being furloughed, he returned to the regiment. He served in the defense of Washington and was mustered out as a corporal on October 16, 1865. After the war he worked as a cooper and in 1884, became a charter member of Sheboygan's Gus Wintermeyer GAR Post 187.
Enthused by the GAR National Encampment coming to Wisconsin, Martin Grasse joined Sheboygan's Carl Witte Camp #37 in 1889 and served as Camp Commander. After moving to Milwaukee, he served as C. K. Pier Camp #35's commander in 1892.
On December 27, 1892, Br. Grasse married Minnie Buehner. They had four children: Arnold (1893), Arthur (1897), Irma (1902) and Beatrice (1904). A fifth, Madeline L (1899), died in infancy.
Wisconsin Dept. Headquarters in Milwaukee was destroyed by fire on December 11, 1901. The entire correspondence of Grasse's administration and a beautiful banner just presented by the Milwaukee area Woman's Relief Corps were lost. Fortunately, the Dept. Encampment proceedings of the previous years and the membership record were saved. A temporary headquarters was established in downtown Milwaukee.
When Milwaukee's Badger Camp #1 and C. K. Pier Camp #35 decided to consolidate, Br. Grasse became a charter member of the new Camp, C.K. Pier Badger Camp #1 (chartered on December 4, 1901).
By the 1902 Dept. Encampment, there were 502 members in 18 Camps at Berlin, Blaine, Butternut, Ellsworth, Endeavor, Jefferson, Hayward, Kenosha, Keshena, Madison, Mayville, Milwaukee, Plover, Racine, River Falls, Sheboygan, Stockbridge and Thorpe.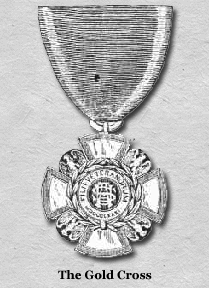 Br. Grasse ran for re-election in 1902, but lost. However, by vote of the convention, the Gold Cross of the Order was conferred upon him. The gold cross (the design later used for the Past Dept. Commanders' badge) was one of two presentation decorations bestowed upon officers who, "by special adherence and devotion to the principles and objects of the Order, the exercise of particular discretion and vigilance in the discharge of their duties, coupled with long and faithful service in the Order, merited some special reward."
At the 1904 Dept. Encampment, Br. Grasse served as chairman of the Department's important Constitution & Laws Committee. That year, the Nat. Encampment published its constitution and laws and the SVR approved its own directives. The same year, he was appointed Dept. Inspector and in 1905, he served as a Dept. Mustering Officer,
PDC Grasse moved to Chicago in 1906 to take a job with the Wabash Railroad and eventually let his Sons membership lapse. When the GAR National Encampment came to Wisconsin in 1923, he reinstated his Sons membership. PDC Grasse was also a member of the Sheboygan Men's Club of Chicago, returning to his hometown often to socialize with others who had moved to the windy city and to visit relatives and friends.
Br. Grasse died suddenly on January 19, 1941 at the age of 73 and was buried in Chicago's Mt. Hope Cemetery.
Written by Stephen Michaels, PCinC

From: Ancestry.com
Press Forward the Good Work, The History of the Wis. Dept. SUVCW by PCinC Stephen Michaels
Sheboygan Press Gazette, Jan. 22, 1941.