In Memoriam:
Ronald W. Knaus, PCC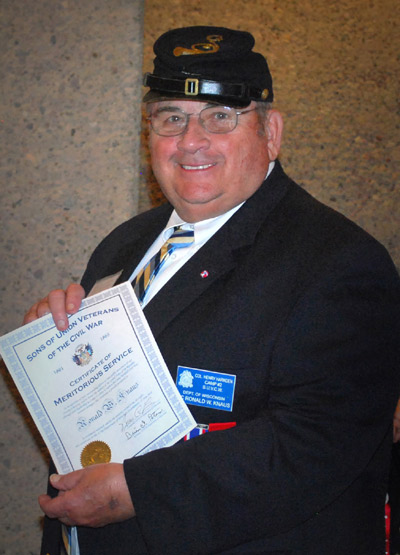 Brother Ron Knaus passed away on Tuesday, July 18, 2017 at the age of 82. Ron was a resident of Middleton/Cross Plains and Commander of Henry Harden Camp 2 in Madison.
He was born on July 5, 1935 in Chicago, Ill., the son of Laura and Joseph Knaus. He married the love of his life, Mary B. Little, on Oct. 26, 1963. Together they raised five wonderful children and had a blessed life of marriage for 53 years. Ron served in the U.S. Army from 1958 to 1960 and was stationed in Germany. He has been a salesman for his entire life. He worked for Sears. Montgomery Ward and Catholic Knights Insurance Company.
Ron is survived by his wife, Mary; son, Ron Knaus; his daughter, Peg (Pat) Keeler; son, Joe (Jessica) Knaus; daughter, Jenny (Kevin) Klepper; daughter, Mary (Peter) Merritt; brother, Tom Knaus; sister, Laurie (Joe) Coffee; grandchildren, Jackson, Jonas, Lydia, Elie, Hannah; and many nieces and nephews who adored him. He is preceded in death by his parents, Laura and Joseph Knaus.
For all of you who knew Ron, you understand how much he loved his family and friends. Ron loved being with people and developed deep, meaningful relationships with so many. He had many interests including participating in Civil War reenactments and shooting competitions. Ron sang with the Madison Maennerchor for 37 years. Ron was a known historian with a passion for military history, especially the Civil War and World War I and II. Tradition and ceremony were very important to Ron and he kept them alive within his family and the many clubs in which he actively participated.
He loved and fostered the Slovenian traditions for Easter, teaching the family how to respect and honor their culture. Another example of keeping ceremonies alive was Ron's involvement in bringing Wreaths Across America to the area with the Sons of Union Veterans. Throughout the years, it was not unusual to see Ron participating in parades and ceremonies to honor veterans. Ron loved the outdoors and spent time every summer at the family cottage swimming, boating, and fishing. He was an avid hunter and target shooter. He and Mary traveled to many wonderful places over the years.
Visitation will be on Thursday, July 20, 2017 frfom 5 - 7 p.m. at Gunderson West Funeral & Cremation Care, 7435 University Ave., Middleton, WI 53562. Visitation will also be held from 10 - 11 a.m. at St. Bernard Catholic Church, 7450 University Ave., Middleton, WI followed by a Mass of Christian Burial at 11. Interment will take place in the VA Plot at Sunset Memory Gardens on Mineral Point Rd.
Information from online obituary posted by Gunderson West Funeral Home. Further information will be posted when available.
---
Maintained by: Dept. Signals Officer
Last Update: 19 July 2017
Sons of Union Veterans of the Civil War
Department of Wisconsin