On May 30, 2015 officers of the Col. Henry Harnden Camp No. 2, Department of Wisconsin, formally rededicated the Civil War Memorial in Evansville, Wisconsin. Mayor Sandy Decker participated on behalf of the City of Evansville. The memorial features a 30-pounder Parrott Rifle that was manufactured for the U.S. Navy in 1863, and was put to use during the Civil War.
In 1900 the artillery tube was donated by the Navy Department to the T.L. Sutphen Post No. 41 of the Grand Army of the Republic in Evansville. The Post in turn donated the piece to the City of Evansville, which placed it on the City Hall lawn on a stone base that resembled a gun carriage.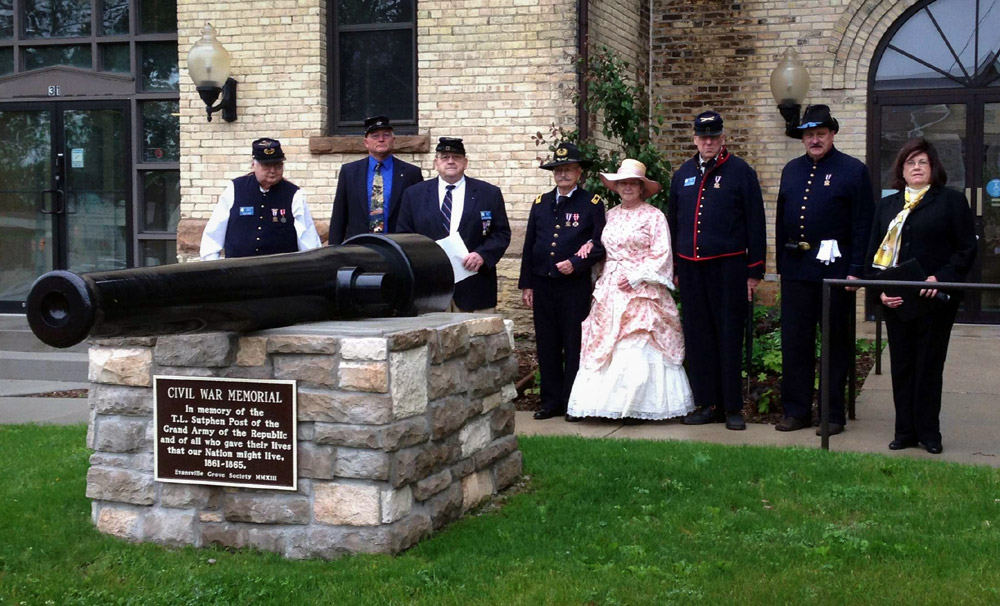 Evansville's G.A.R. Post was named in honor of Theodore L. Sutphen, one of the first young men from the community to volunteer for service in the Union army. He enlisted in Company H of the 2nd Wisconsin Volunteer Infantry Regiment, which became part of the famed Iron Brigade. Sutphen was killed in action on the evening of August 28, 1862 during the opening engagement of the Second Battle of Bull Run. His remains were returned to Evansville, and are buried in the Maple Hill Cemetery, among more than 130 Civil War veterans.
The Evansville memorial was removed to Leonard-Leota Park in 1938 as part of Depression Era improvements to the park. At a later date the artillery piece suffered severe damage as the result of vandalism.
To restore the artillery piece and to have it returned to its place of honor at City Hall, the Evansville Grove Society, a local historical society, and the Evansville Historic Preservation Commission undertook a fund raising effort and solicited in-kind contributions of services and materials, commencing in 2012. The restoration project was completed in 2015, and has a value of $35,000, including cash outlays and in-kind contributions.
Baker Manufacturing Company, LLC served as a major contributor and as general contractor for the restoration work. The company was founded in 1873 by Allen S. Baker, who volunteered for army service at the same time as Theodore Sutphen, and both served in the same Company. Baker was wounded in the same battle in which Sutphen was killed, and Baker was wounded again at the Battle of Gettysburg.

Researched and written by John Decker, Col. Henry Harnden Camp No. 2
L - R in photo above: Camp 2 members Virgil Matz, Thomas W. Brodd, Ronald Knaus, William Raftery and Ester, Alan Hembel, John Decker and his wife Sandy (Mayor of Evansville).