The following information was transcribed from William A. Hyer's newspaper obituaries:
Oshkosh's Last Veteran of the Civil War Passes Away
William A. Hyer, 96, Is Called by Death Sunday Morning - Funeral Will Be on Wednesday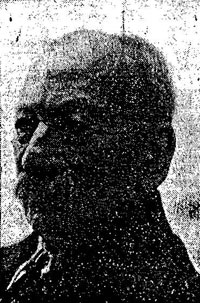 The last Civil war veteran residing in Oshkosh, William A. Hyer, 96, of 463 Division street, passed away at the residence of his grandnephew, Rollin B. Hacker, where he had resided for many years, Sunday morning. Death was due to infirmities incident to his advanced age.
He was born in Oshkosh, Nov. 1, 1847, of pioneer Oshkosh settlers, and with the exception of his service in the Civil war and a few years residence in Baraboo, had lived in this city the majority of his life. He was a retired stone mason.
When Adolph Priebe died last Christmas day, his passing left Oshkosh with one sole veteran of the Civil war, Mr. Hyer.
He entered service Jan. 19, 1865 and served with the Capt. Charles Spencer, Company E, 47th regiment, Wisconsin Infantry Volunteers. He was given an honorable discharge Sept. 4, 1865, at Nashville, Tenn.
The only immediate survivors are a nephew, M.C. Haeker, Baraboo, Wis., and the grandnephew in Oshkosh.
Funeral services were held at the Konrad funeral home, the Rev. James Verduin officiated. Interment was in Riverside cemetery. The pallbearers were Arnold Lemma, Theodore O. Lary, Gus Elwood and E.R. Williams. Color bearers were R.W. Frazier, E.E. Fuller, Bert Meyer, Harry Sarres, Floyd Wright and Willis MacDonald, all members of the Atley H. Cook post No. 70 of the American Legion.
---
Sources: Oshkosh Daily Northwestern, 28 and 31 August, 1944


Researched by Kurtis Kirk