(Newspaper obituary, Ironwood Daily Globe, 30 Dec 1943)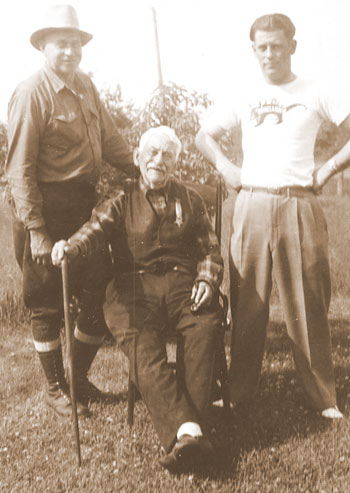 Jesse Fox, age 97, the last surviving Civil War veteran of Waupaca County, one of the last in the state and a resident of the Iola vicinity for many years, died at 10 o'clock at the home of his son and daughter, James Fox and Mrs. Jennie Brown at Rhinelander. He had been in ill health for the past four years.
Mr. Fox was born on March 10, 1846 at Cambridge, England and came to this country at the age of five with his parents. He drove with his parents from Waukesha to Iola in the early 1850's. Unable to go farther north than the present mill pond at Iola, the oxen were turned back. In a place about halfway between Iola and Scandinivia on old Highway 49, they turned west over a route between Benson Corners and turned northward into the present town of New Hope. From a point near the present New Hope Lutheran Church eastward to Northland, it was necessary to cut a road to permit passage of the ox cart upon which the family carried tis worldly posessions. Iola already was a settlement when the Foxes reached that point on their way to their new home, a farm a mile southeast of Northland.
At the age of 17 Mr. Fox enlisted for service in the Civil War and served with the 44th infantry until the end of the war. After leaving the farm, he lived at Iola for many years and for five or six years lived at Parish and Elcho before going to Rhinelander last August.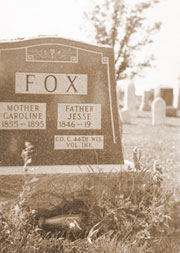 Mr. Fox married Miss Carrie Olson in 1870 in New Hope. She died January 19, 1895, and is buried in the New Hope Cemetery.
Mr. Fox was an ardent hunter, fisherman and trapper. As early as before the Civil War he killed squirrels with bows and arrows, used an old musket to kill the first bear he ever saw in the woods near Northland, killed many deer in the Waupaca County woods and trapped fur-bearing animals, which added to the family income. He enjoyed these sports up until a few years ago. As late as 1938 he was with a party of 25 or more muskie-seeking sportsmen to fish Pelican Lake, and Mr. Fox, then 92 years old, was the only one to capture a muskie at that time.
Surviving are eight children, Sam Fox of Iola, James of Rhinelander, Frank of Gleason, Robert and Arthur of Miles City, Mont., Mrs. K.M. Murray of Scranton, N.D., Mrs. Jennie Brown of Rhinelander and Mrs. Martin Gurholt of Wausau.
Funeral services will be held Friday afternoon at 1 o'clock at the Swenson Funeral Home at Iola, and at 2 o'clock at the North New Hope Church. Rev. E.M. Berg will officiate and burial will follow in the parish cemetery beside his wife.
---
Sources: Ironwood Daily Globe, Ironwood, MI - Thursday, 30 Dec 1943, Pg 2
Janet Eiler - Winnebagoland Genealogical Society
Ancestry.com Public Member Family Trees
Roster of Wisconsin Volunteers, War of the Rebellion

Researched by Bro. Vince Barker