M. E. Crary, 91, last surviving Civil War veteran in Vernon County, died Friday afternoon, May 5, at his home in the village of Hillsboro. Death followed a short illness with influenza.
Funeral services were held Tuesday afternoon at 2:00 o'clock from the Hart Funeral home. The Rev. Raymond Warren, pastor of the Trippville Wesleyan Methodist church officiated the rites. Military honors were accorded by the Clifford Harrison post of the American Legion. Burial was in Mount Vernon cemetery.
Milton E. Crary, son of Mr. and Mrs. Calvin Crary, was born August 1, 1847, in Rock County, Wisconsin. When Milton was a lad of adolescent years, the Crary family moved to Richland Center, where he grew to manhood. For several years Milton assisted his father in the operation of a tannery. Later he came to the village of Hillsboro, where for sometime he was employed in the shoe-shop of the late Henry Linke, Sr.
In 1869 Mr. Crary was married to Miss Louise Manhart, a member of one of the earliest pioneer families in Hillsboro. For some time they made their home in Richland Center, later returning to Hillsboro where for many years Mr. Crary operated a shoe store and shoe repair shop. He also was in the same line of business in Elroy and Kendall, returning to Hillsboro where he continued to follow the same occupation until ill health forced him to retire. In 1911 Mr. Crary went to the state of Montana where he homesteaded and proved up on a claim, returning once more to Hillsboro in 1918, where he resided until the time of his death.
During the war between the states, Mr. Crary served with the Union forces. He enlisted January 27, 1865 as a private in Company F, 46th Wisconsin Volunteer infantry.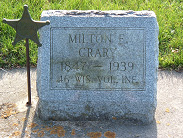 He served until September 27, 1865, being honorably discharged at Nashville, Tennessee. He had been a member of the Grand Army of the Republic and was also active in the Hillsboro lodge of Odd Fellows.
Surviving Mr. Crary are one son, Julius E. Crary, of Terry, Montana; one grandson, Theodore M. Crary of Chicago; one half-sister, Mrs. James Hansbery of Reedsburg; one half-brother, A. B. Crary of Battle Creek, Michigan; numerous nieces and nephews and many friends. Preceding him in death were his wife, who passed away April 15, 1936; two daughters, Anna (Mrs. Claude Hickok) and Josephine, who died in childhood.
---
Information Sources:
Obituary from Hillsboro Sentry-Enterprise, May 11, 1939
Invalid Pension filed Sept. 1, 1876
U.S. Federal Census for 1860, 1880, 1910 & 1920
1890 Veterans Schedule
1895 & 1905 Wisconsin Veteran's Census

Researched and submitted by Bro. Don Jager