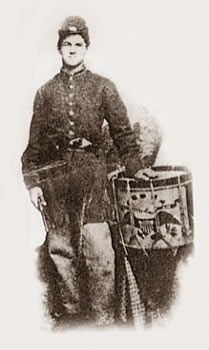 Pvt. William P. Bryant
Co. F, 48th Wis. Vol. Inf.
William Pascoe Bryant was born in Yorkville, Racine County, on July 12, 1847, the son of English immigrants. The family, which included seven other children, moved to Sheboygan Falls in 1852.
In early 1864, at age 16, Will enlisted in Co. F, 48th Wisconsin Infantry as a drummer boy. When he admitted that he didn't know how to drum, a musket was shoved into his hands. He and his unit went to southwest Kansas to guard the mail route.
At night, Bryant walked the prairie on sentry duty and was scared by the howl of wolves and coyotes. The soldiers camped on the banks of the Arkansas River and in the winter, made dugouts in the earth. Huge herds of buffalo roamed nearby. Kit Carson, the famous scout, often stopped at the soldiers' camps, as did big-wheeled overland freight wagons. Sometimes almost a hundred wagons would pull into camp. Often the soldiers had to help snake the wagon teams across the river. After a three-week march to Fort Leavenworth, Will was mustered out on February 19, 1866.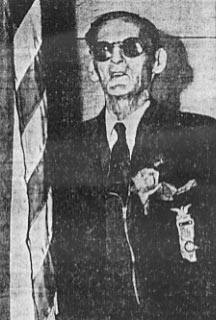 William P. Bryant
(undated photo)

After the war, Bryant worked in the sash, door and blind trade for 10 years. He then bought a truck farm near the city and after 12 years of that, got a job as a shipping clerk for Brickner Woolen Mill, working there until his retirement. He also operated a grocery business for two years.

In 1870, he married Miss Frances Marie Dean. They had four children: Dr. Harry Hoadley, John LeRoy, William Claire, and May Angy.

For 12 years Bryant served as commander of Sheboygan Falls' Jarius Richardson GAR Post #12, before moving to Milwaukee to live with his daughter. In January 1937, he was elected commander of Milwaukee's E.B. Wolcott GAR Post #1. He served as the Wisconsin Department's Assistant Adjutant General in 1936 and 1937 and was elected Department Commander on June 22, 1937. He was also a senior aide-de-camp and on the staff of the National Commander-in-Chief.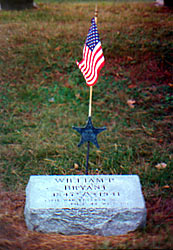 Pvt. Bryant's Gravesite

He frequently visited Sheboygan Falls, placing flags on the graves of Civil War veterans at Sheboygan Falls Cemetery and reciting the Gettysburg Address during Memorial Ceremonies there.

Bryant died in his sleep on September 30, 1941, at Milwaukee's Soldiers Home, where he'd been for three days. He returned ill, from the GAR National Encampment, weeks before in Columbus, Ohio. He was 94 and Sheboygan County's last surviving Civil War veteran, the second last in Milwaukee. He was buried in Sheboygan Falls Cemetery.



---
From Milwaukee Journal, October 1, 1941
Sheboygan County News, October 2, 1941
The Heart of Sheboygan County (Vol. 1), Janice Hildebrand, Proj. Dir., Curtis Media Corp 1992

Researched by PC-in-C Steve Michaels