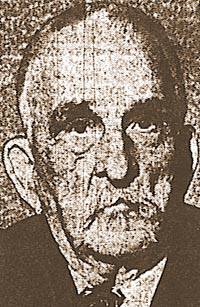 Charles A. Gosha was born March 21, 1840 in New York State and came to Wisconsin from Stockbridge, Massachusetts, when he was four years old. He was a carpenter by trade and in his early years, was a shipbuilder. He helped build many business places in Appleton. He planned to be a doctor and was at the Pittsfield Medical Institute in Massachusetts when he answered the call to arms at the age of 23. He spent 21 months in the army, serving as an acting sergeant for a time, in Company E, 4th New Hampshire Inf. He enlisted as Charles Cole and was never wounded, though he saw almost continual action, including the Battles of Drewry's Bluff, Bermuda Hundred, Cold River and the siege of Petersburg.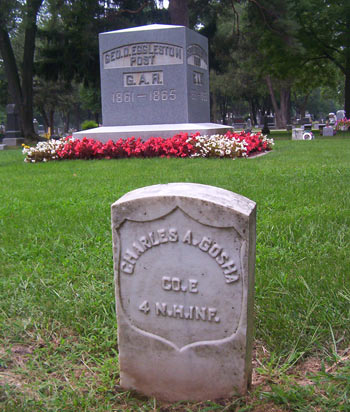 He was one of Appleton's first rural mail carriers and delivered mail in the vicinity of Twelve Corners. Hunting and fishing were his favorite sports and he continued to fish on Lake Winnebago until the Fall of 1940. He remained active until three months before his death. Despite his advanced age, he kept abreast of current events and possessed a remarkable memory, recalling outstanding and interesting dates without hesitation. He was one of Appleton's most colorful citizens, having lived there 70 years. He enjoyed recounting stories of the months he spent fighting with the northern forces in the Civil War.
Gosha was commander of Appleton's George D. Eggleston GAR Post 133 the last three years. On Memorial Day 1939, he was presented with a plague by the veterans' organizations and auxiliaries of the city. The plague was hung in the city hall. He was a member of St. Mary Church.
He passed away on January 17, 1941, two months shy of his 101st birthday. He was survived by three daughters: Mrs. John Gerritts and Edward Miller, Appleton, and Mrs. T.D. MacDonald, Batavia, Ill.; two sons, Frank of Appleton and Albert of Kimberly; 14 grandchildren, 17 great grandchildren and two great great grandchildren.
Funeral services were conducted at St. Mary's Church. The Charles O. Baer Camp, Spanish American War Veterans, conducted a military service. He was buried in the GAR plot at Appleton's Riverside Cemetery.
---
Appleton Post Cresecent, 17 January 1941
Research by Br. Vince Barker