March 16, 1940 Green Bay Press-Gazette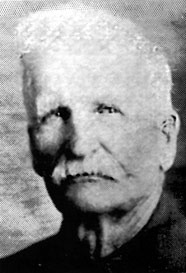 George Lince Sr., 91, last of the Civil War Veterans in this part of the state died at his Abrams home at 10:15 Friday morning of causes incident to old age. The funeral will be held Monday afternoon at 2 o'clock at the residence of George Lince Jr., Big Suamico, with military services and burial in Brookside.
Lince was active despite his advanced age and was ill in bed for only the last week. He was known for his long walks through the woods, even into recent years, attending his traps. To this activity he attributed his longevity. He was a well known character of this part of the state and spent his recent years in hunting and trapping, walking several miles each day.
Lince lived in this part of Wisconsin since the Civil War days, when he came here as a farm hand and woodsman after being mustered out of service. He often recalled and scenes and incidents of the Wisconsin of those days, then a pioneer state in the northwest wilderness.
George Lince was born in Jefferson in Jefferson County, New York, Nov. 6, 1848, the same year that Wisconsin assumed statehood. He received a common school education in his native state and in 1864 he hired out as a farmer for whom he worked six months. At that time the Civil War intervened and on Sept. 1, 1864, when 16 years of age, he enlisted in the 10th New York Heavy Artillery to serve one year or for the duration of the war. He was mustered out of service on June 23, 1865.
He then returned to New York and worked on farms there until 1867 when Jane Lince, his cousin, and he came to Pensaukee, Wis. Here he worked for George Beyers in a shingle mill and in the woods for Christ Parkinson. Later he returned to New York. In 1870 Lince returned to Wisconsin and for several years worked for farmers during the summer and in the woods for the winters, following the customary life of many single men. On March 17, 1872, he married Carrie L. Benjamin, who preceded him in death on Dec. 15, 1932.
Later Lince disposed of his farm and retired from active farming, purchasing a home in Abrams in 1921 where he resided until his death. During the last 18 years he spent all his time in hunting and trapping and his upright, still military figure, tramping through the woods, became a common sight in the vicinity of Abrams.
The survivors include a daughter, Mrs. Elsie Meally, Abrams, who lived with him, and a son, George Lince Jr., Big Suamico; eight grandchildren and six great grandchildren.
---
Information Sources:
March 16, 1940 Green Bay Press-Gazette
U.S. Federal Census records 1850-1930
1890 Veterans Schedule
Ancestry World Tree
Oconto County GENWEB


Researched and submitted by Bro. Vince Barker