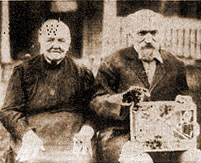 Mrs. and Mrs. Henry Volhard

(Obituary from The Appleton Post Crescent, 29 April 1939)

Henry P. Volhard, 94, last Civil War Veteran in Marathon County, died at the farm home of a son in the Town of Marathon yesterday. He was wounded three times in the Battle of the Wilderness in Virginia in 1862.

Volhard served for two years as a Sergeant in the 5th New York Infantry, having enlisted on Oct. 20, 1861, and was mustered out on Oct. 15, 1863.



---
Information Sources:
Appleton Post Crescent - Saturday, 29 April 1939, Pg 1


Researched and submitted by Bro. Vince Barker