Lawrence Snyder, last Civil War veteran in Juneau County who observed his 99th birthday July 28th, died Sunday (13 January 1944) at the home of his daughter, Mrs. Mary Mortimer, Wonewoc. He missed reaching the age of 100 by five months.
Mr. Snyder was born in Geme, Austria, and came to America with his parents, George and Ann, when he was 10. They first lived in Cincinnati, Ohio, and then in Muncie, Indiana.
When the Civil War broke out, Snyder, at the age of 18, enlisted in the navy from 5 January 1864 to 13 January 1866 and served on a ship called the "Ram of the Avenger."
In August, 1867, he was married to Melinda Batteral, and in 1870 he moved with his family to an 80-acre farm in the town of Woodland, Sauk County. Mrs. Snyder died in 1912 and he has lived with his daughter for more than 21 years.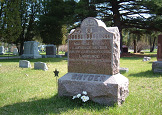 Survivors include four daughters, Mrs. Mortimer, Wonewoc; Mrs. Elmer Leatherberry, Baraboo; Mrs. Edward Harvey, Berkeley, Calif., and Mrs. William Filter, Wonewoc; three sons, Walter and Frank, Hillsboro, and Blaine, Elroy. Two grand-children in service are Edward Filter in the Navy, and Russell Travers, in the Army in Alaska. He was also survived by many other grandchildren, great-grandchildren and great-great grandchildren. He was preceded in death by his wife Malinda who died in 1912, and daughter Elizabeth Traver who died in 1939.
Burial at Pine Eden Cemetery, Wonewoc, Juneau County, Wisconsin.
---
Information Sources:
Obituary from Juneau County Chronicle, Feb. 17, 1944, pg. 3
U.S. Federal Census for 1860, 1880, 1910 and 1920
1890 Veterans Schedule
1895 & 1905 Wisconsin Veteran's Census
Additional information provided by great-great-great granddaughter Sharyl Traver-Fischback.

Researched and submitted by Bro. Don Jager