Patsy Shay Last Forest County Civil War Veteran, Dead
Funeral Services Held Yesterday Afternoon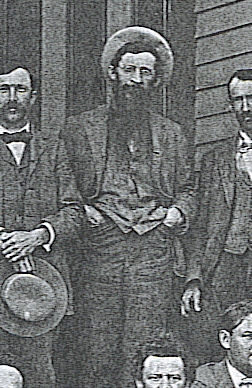 Patsy Shay in 1898

Crandon has lost another of its earliest settlers; another good man and respected citizen has taken his journey into "The undiscovered country, from whose bourn no traveler returns". A man who has seen Crandon and Forest County develop from a timbered wilderness; one who has traveled the primitive trails through the primeval forests and has seen many of those trails developed into broad highways of ever increasing traffic. He also has seen people come and go, but he has remained a citizen of this place he chose as his home in his early manhood.

In the passing of P. Shay, Crandon has not only lost one of its earliest and best known pioneers, but Crandon's only remaining Civil War veteran has responded to the last call.

In his home in this city of Crandon, death came quietly and peacefully at 2:10am Tuesday, March 1st. With his immediate family about him and his beloved wife holding his hand, he slipped away out of life's trials and turmoil, and the places which have known him shall know him no more forever. He will be remembered however, by those who knew him best, as a good soldier, a loyal citizen, a friendly and helpful neighbor, a true friend and a kind and loving husband and father.

The fine Memorial Park, west of the Forest County courthouse, with its growing trees and its massive granite monument, dedicated to the Forest County heroes of the World War who laid down their lives at their country's call, is largely the result of Mr. Shay's untiring efforts in that direction, and it now becomes a fitting tribute to his memory and to his interest in the boys who so valiantly followed and defended their country's colors in a foreign land.

Patrick Shay was born in Keene, New Hampshire, March 15, 1848, and had therefore at the time of his passing reached the age of 83 years, 11 months and 15 days; at age of six years he came to Wisconsin with his parents, locating at Watertown; one year later he moved them to Waterloo.

At the outbreak of the Civil War he was too young to enlist regularly, but he entered service as a doctor's boy, serving in that capacity for three years, and on February 13th, 1865, he enlisted regularly, serving in Co. E of the 48th Wisconsin Volunteer Infantry; he was honorably discharged from service on December 30th, 1865, and upon his return from the war, he removed to Omro, Wisconsin, where he lived for a number of years and made many friends. (Note - according to Shay, his service as a doctor's boy was with the 29th Wisconsin Infantry).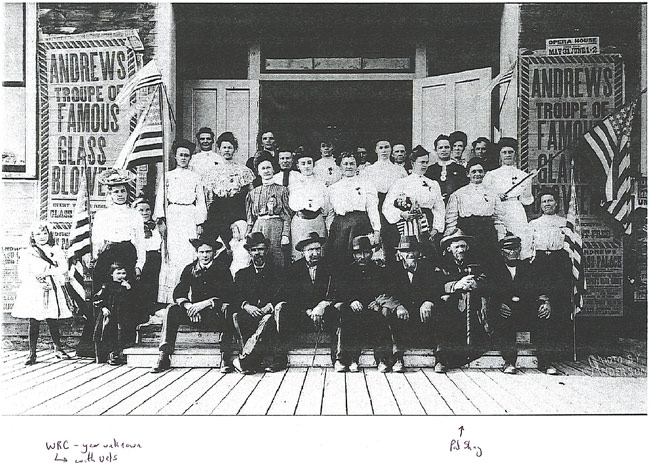 Crandon WRC with GAR members about 1910
In 1876 he came to the territory which is now Forest County in the interest of the Oconto Cranberry Co. and from that time remained in this country most of the time; at the time of the creation of Forest County in 1885, Mr. Shay was elected chairman of the first county board in the new county. The first county board meeting was held in a little log school at the foot of Lake Avenue, near Lake Metonga; this first county board purchased the site of the present beautiful court house park and transacted other important business of the county. Mr. Shay has held other important county offices, having been Register of Deeds and also County Clerk of Forest County for a number of years.
On September 30th, 1889, he was united in marriage with Mattie McNeal Fay, who survives her husband; to this union were born Edson Caswell of Austin, Penn., and William James Shay, a World War veteran, of Denver, Colorado. Both sons were with their parents several days before Mr. Shay's death and were present at his bedside when he passed away. The only other surviving relatives are two brothers, William and James Shay, both of Sioux City, Iowa.
Mr. Shay was a member of the Crandon F, & A. M. Lodge also of the Royal Arch Chapter, Antigo Knights of Templars, Wisconsin Consistory and Tripoli Shrine. On Armistice Day, 1931, he was made an honorary member of the Crandon Post of the American Legion (Note - the Crandon VFW Post is named in Shay's honor).
Funeral services were held at the home on Wednesday afternoon at 3 o'clock, conducted by the Masonic Lodge, assisted by Rev. Shade of the Methodist Church. Interment will be made at Mrs. Shay's former home in New Jersey, where the remains will be taken, accompanied by his eldest son, Edson Shay, who started on his long journey this morning, the local American Legion Post escorting the remains to the morning train at the North Western station.
The sympathy of this community is with the remaining members of Mr. Shay's family in this hour of their deep sorrow.
---
Information Sources:
The Forest Republican, March 3, 1932
Forest County Historical Society - Ron Krueger
1890 Veterans Schedule
1900-1930 U.S. Census Records

Researched and submitted by Bro. Vincent B. Barker