The LaCrosse Tribune - Thursday, 21 Jan 1943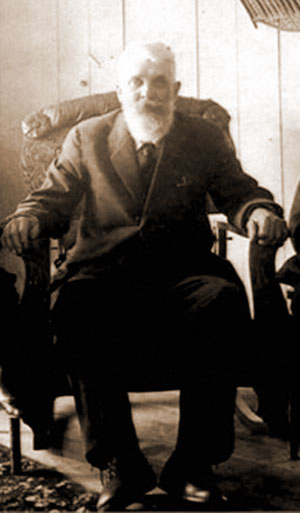 William Rutter, 101, who survived four years of battle in the Civil War, although wounded twice and captured twice, is dead. He died Tuesday from the effects of a stroke suffered on Christmas day, 1941, and will be buried near the farm where he has lived for nearly 75 years, following funeral services here Saturday afternoon.
Rutter enlisted in the Union Army in 1861, with Co. B., 75th Ohio Infantry, serving until the end of the Civil war. He was one of the few remaining veterans of the Civil war, and the only one left in this section of Wisconsin. When that conflict ended, he was in prison, having been captured in the battle of Saratoga. He had previously been paroled after being captured by the Confederate forces. It was in the battle of Saratoga also that he was wounded for the second time. Previous wounds had been suffered in the battle of Chattanooga. He was awarded a medal for bravery.
A native of Athens, Ohio, Rutter was born there Nov. 17, 1841. Three years after release from service at the end of the Civil war, he accompanied his uncle John Rutter, to Wisconsin, traveling by railroad as far as Sparta and then journeying on to the Mississippi river where the two took up a homestead near Ferryville that has been William Rutter's home ever since.
He had been extremely active until his last illness, and it was not an uncommon sight to see the 100-year-old man out in the fields of his farm, helping pitch hay or do other heavy work.
Until he had the stroke his mind was unusually keen. He was well read and kept up with current affairs. He loved to read and when his eyesight failed frequently had someone else in his family read to him.
When America was plunged into World War II, he prophecied that the conflict would last for 10 years and expressed the wish that he were younger so he could get into action again.
Survivors include seven children; Martin on the home farm, Hyrum of Ferryville, Mrs. Arthur (Clara) Sidie, Mrs. Eva Yttrie and Albert of Viroqua, Mrs. James Luff of Walworth, Wis., and William Rutter Jr., in a soldiers hospital at Madison. He also leaves a number of grandchildren and great grandchildren.
The funeral will be held at 1:30 p.m. Saturday in the Ferryville Community church with the Rev. Williams of Viroqua officiating. Burial will be in the Rush Creek cemetery near the farm home.
---
Sources:
Janet Eiler
The LaCrosse Tribune - Thursday, 21 Jan 1943, Pg 17
Ancestry.com 1890 Veterans Schedule
American Civil War Soldiers database

Researched by Vince Barker