Lansing A. Wilcox was born March 3, 1846, in Salem, Kenosha County. He was the oldest of seven children, born to a shoemaker and his wife, who had come from New York. His family returned to New York, where it lived for 12 years, before returning to the town of Lafayette, just west of Elkhorn, in Walworth County. The Wilcox family moved to Jackson County and then again, coincidently, to the town of Lafayette in Chippewa County at the start of the Civil War. They lived in what became known as Wilcox Valley. At age 17, Lansing enlisted in Co. F, 4th Wisconsin Cavalry on February 17, 1864, spending most of his service on scouting duty, stationed at Baton Rouge, Louisiana. His regiment also established a 240-mile mail route in Texas. He was discharged May 28, 1866 as a corporal.
Wilcox returned to Wisconsin, then moved to Kansas, then returned to Wisconsin. In 1873, Lansing married his first wife, Mary, who he divorced a few years later.
The village of Cadott in Chippewa County was laid out and platted in 1875. Wilcox became a resident six years later and farmed there for several years. He also worked in a sawmill, taught school and was village assessor. In 1902, he was appointed postmaster and served for 10 years. As Cadott Cemetery Association treasurer, he was instrumental in placing the cemetery on a perpetual upkeep basis. Since 1912, he had lived on his Civil War pension.
After it was chartered in 1891, Wilcox became an active member of George C. Ginty GAR Post #183 in Cadott.
In October 1928, Wilcox moved to Tacoma. There he served as GAR Department Commander of Washington & Alaska. He returned to Wisconsin in 1938 and at the 1943 National GAR Encampment held in Milwaukee, was elected Nat. Sr. Vice Commander- in-Chief. He was the only Civil War veteran able to attend the 1946 Wisconsin Dept. Encampment in Kenosha. There he installed himself as Dept. Commander. He was the only man to have been Dept. Commander in two states. When the second from last Wisconsin Civil War survivor died in December 1947, Wilcox became the last, one of 28 nationwide.
The last GAR National Encampment, held in 1949 in Indianapolis, was a memorable one for Wilcox, as he took the first plane ride of his life to get there.
After his second and third wives died, he married Marie Buttke in 1942. They built a small home on farm land near Cadott, raised chickens and tended a large garden. Up until his health began to fail in 1949, he celebrated each of his birthdays by going to Cadott and presenting $25 in cash to each of several churches in Cadott.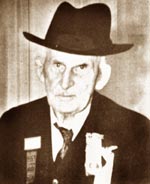 Lansing Wilcox



At the 1949 Wis. Dept. Encampment, he vowed that he would carry on alone and planned a 1950 Encampment in Sheboygan. But due to ill health, the 1949 Encampment was his last. Wilcox was admitted to the Grand Army Home at King for the fifth and last time in August 1950. In January 1951, he was named an honorary member of the Daughters of Union Veterans of the Civil War. He was also a life member of the Army and Navy Union.

He celebrated his 105th birthday at the Home on March 3, 1951, with all but one of the commanders of the state's veterans organizations present. SUVCW Wis. Dept. Commander Peter Fields of Sheboygan, ASUVCW Dept. Pres. Mary Harrison and National Chaplain Mrs. Elinore Konrad, both of Milwaukee, were also there. His fourth wife, Marie Buttke, who was 71 at the time, was also there. Songs were sung under the direction of a quartet and a huge birthday cake was served. At this time, he was the fifth oldest of the 11 remaining Union veterans in the nation.

His formula for longevity was simple. Wilcox once remarked: "I attribute my long life to love of God and my fellow men." Even more than his long life, he prized "what a wonderful thing to be an American citizen."

Lansing Wilcox died on September 29th, 1951 and with him, Wisconsin's living link to the Civil War and the Grand Army. Funeral services were conducted at the Grand Army Home at King and in the Cadott High school auditorium. A Wis. National Guard unit provided a military escort from King to Cadott. Commanders of all the state's veterans organization were asked to serve as pallbearers.

He was buried in Cadott's Brooklawn Cemetery and a state historical marker was placed near his grave. He was survived by his wife and a daughter by his first wife, Mrs. Jessie Geauque of San Francisco.
---
From Chippewa County, Wisconsin, Past & Present (Vol. 1 & 2); S.J. Clarke Publishing Co., Chicago 1913
Federal census: 1860, 1870, 1920, 1930
Milwaukee Journal, September 30, 1951
Milwaukee Sentinel, September 30, 1951
Waupaca County Post, March 8, 1951

Researched by C-in-C Steve Michaels