The following information was transcribed from Herman Kalk's newspaper obituary:
Herman Kalk, 98, Dies at Potter
Served During Civil War; Last Veteran in Calumet County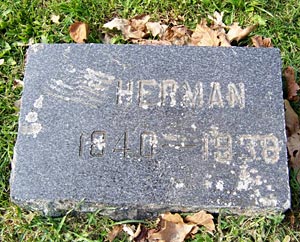 Herman Kalk, 98, the last of Calumet County's Civil War Veterans, died of old age Saturday afternoon at the home of his daughter, Mrs. August Wenzel, Potter.
Kalk was born June 6, 1840, in Germany and came to this country as a youth. He lived at Brillion for a time and farmed at Rantoul for about 25 years. Since the death of his wife, he lived with his daughter at Potter. He served with a Wisconsin unit during the Civil War and was a member of the GAR.
Survivors are a daughter, Mrs. Wenzel, and a son, Hugo Kalk, both of Potter.
Military funeral services will be conducted by the Arno Bloedorn Post of the American Legion, Brillion, at 2 o'clock Tuesday afternoon at the Reformed Church of Potter. The Rev. J.C. Rosenau, pastor, will be in charge. Burial will be in the Potter Cemetery. The body will be at the Luecker Funeral Home at Brillion until the time of the funeral.
(Herman Kalk served in Co. C, 27th Wisconsin Volunteer Infantry from 21 August 1862 to 29 August 1865)
---
From: Appleton Post Crescent, Monday, 5 December 1938, Pg. 9
Ms. Janet Eiler
Wisconsin Roster of Volunteers, War of the Rebellion
Researched by CC Vince Barker
---
Sources: Appleton Post Crescent, 30 July 1930, Pg 11
Winnebagoland Genealogical Society - Janet Eiler
Roster of Wisconsin Volunteers, War of the Rebellion
1890 Veterans Schedule
1900, 1920, 1930, U.S. Federal Census

Researched by Vince Barker