(Obituary from The Buffalo County Journal, Alma, Wisconsin, March 18, 1943)
County's Last Civil War Veteran Passes
Michael Welsch Sr., 98, last surviving Civil War Soldier in Buffalo County died at 2 p.m. Friday at his home in Fountain City after an illness of a year. Mr. Welsch was the oldest resident of that city.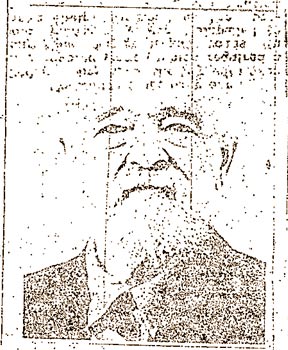 He was born on June 20, 1844, in Germany, and came with his parents when he was eight years old to this country. The family settled at Hartford. There they lived for a few years before they moved to Trempealeau County, where they resided near Dodge. They made the trip with oxen in a covered wagon which required a long time because of poor roads. In some places they were compelled to make their own road as they progressed. After getting the location for a farm, they cleared the land themselves.
When Mr. Welsch was 19 he entered the Union Army and served in the Civil War from 1863 until 1865. He was a member of Company L, Second Wisconsin Cavalry, serving under Generals Grant and Custer. He was a member of the G.A.R. when it was in existence.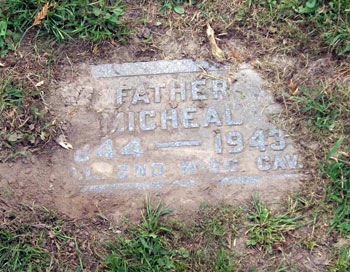 He married Elizabeth Tullius, in Dodge, in 1871. Mr. Welsch bought a farm in Eagle Valley and lived there until 1897 when he sold the farm to his oldest son, Frank. He then moved to Fountain City. Mrs Welsch died fifteen years ago.
Survivors are seven children; Frank, Anton, Michael Jr., Andrew, Tillie, and Mrs. Clara Becker, residing in or near Fountain City; and Mrs. Emil Berg, Winona; seven grandchildren and two great grandchildren. Funeral services were conducted at 9 a.m. Tuesday at St. Mary's Church, the Rev. C.A. Fries, officiated. Burial was in St. Mary's Cemetery.
The old veteran was accorded the honors of a military funeral by the American Legion. Members of the Alma Post who attended were John R. Lindrud, James J. Gleeson, and William Bataglia.
For a number of years the only two Civil War veterans in the county were Mr. Welsch and Peter Short of this city. Now both have passed away within a few weeks. Veteran Short died on Feb. 10 at the age of 97.
Michael Welsch enlisted in Co. L, 2nd Wisconsin Cavalry, on Oct, 25, 1863, at Cross, WI. He was mustered out on Nov. 15, 1865, at Austin, Texas.
(Correction to obituary: the 2nd Wisconsin Cavalry never served under General Custer)
---
Sources: The Buffalo County Journal, Thursday, March 18, 1943
Janet Eiler - Winnebagoland Genealogical Society
Wisconsin Rosters, War of the Rebellion

Researched by CC Vince Barker