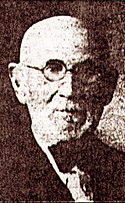 Henry August Straubel

Henry August Straubel was born in May 11, 1841, in Schwartzburg-Rudelstat, Germany. He was one of five children in the family of Christian Straubel and Caroline Weise. In May 1846, the family set sail for America, "the land of opportunity and free thinking." After nine hectic weeks on the Atlantic, they landed in New York. From there they went to Albany by boat and from there to Buffalo by horse-drawn barge. Another ship took them to Mackinaw Island and they finally landed in Green Bay in mid-September after a trip of many trials and hardships, including being grounded several times at various points along Green Bay.

His father was a wagon maker and with the equipment he brought with him from Germany, opened a shop in Green Bay, where his 12-year son worked with him. Besides his wagon business, Mr. Straubel also shoed horses and oxen.

During his boyhood, the Henry enjoyed many hunting and fishing trips around Green Bay. He became an excellent marksman and his love of the outdoors continued throughout his entire life.

Like many other young men of the day, Straubel desired to see more of America and in 1861, ay age 20, left his father's shop and headed south. He reached New Orleans as the Civil War was declared. When Lincoln issued his second call for volunteers, Straubel decided to come home to enlist. He traveled up the Mississippi to Cairo, Ill., by the sidewheeler, "Alligator," by train to Appleton and walked the remaining distance home. He then enlisted as a wagoner in Co. H, 9th Wisconsin Infantry on October 7, 1861. The company was made up mainly of Green Bay's Turn Verein, the German athletic and social society, which Straubel had helped start and became a charter member at age 19. The unit organized and trained at Milwaukee's Camp Sigel, then left the state on January 22, 1862, for Ft. Leavenworth, Kansas. He was a brevet 2nd lieutenant when captured at the Battle of Newtonia, Missouri, on September 30, 1862. 188 men of his regiment were lost during the battle and he was subsequently held prisoner, but never imprisoned, but kept on a continual march southward. Food was scarce and prisoners resorted to "jayhawking" corn from mule rations, grinding it and cooking it on the way. He was exchanged and discharged due to disability on February 7, 1863.

After the war, he returned to Green Bay and opened a blacksmith shop. In 1869, he was united in marriage to Miss Minnie Altman of Mishicot, Manitowoc County and six children were born of the union. In 1872, he sold his wagon shop and bought a home on the old Cedar Creek road, intending to open a business there. He never did and returned to Green Bay to live. In 1877, he started the first flour mill in Green Bay with John H. Ebling. He sold his interest in the mill to Mr. Ebing in 1894 at the age of 53. His wife died less than four years later, November 17, 1898, on her 48th birthday. During his retired years, he spent most of his summers on the waters of the Bay and he owned a number of boats, including a houseboat. He maintained an active interest in the Turn Verein, of which he was the oldest remaining member. He was also the oldest living member of the Odd Fellows, Elks Lodge and the oldest policy holder of the Northwestern Mutual Life insurance Company.

In later years, he helped found the Straubel Cheese Company, which his son, Charles A. Straubel, ran for many years. After he gave up boating, he spent much of his time at Charles' summer cottage at Lookout Point on the bay. He always tilled and cultivated his own garden there, and had his last at the age of 93. Taking a sojourn to Florida in 1925, he decided to purchase a summer home at Avon Park, and spent each winter there since then. He remained quite active and well to the last, although a shoulder injury he received in a fall at his home in his last year is believed to have taxed his strength and recuperative powers.

"Grandpa" Straubel, as he was affectionately known, returned to Green Bay briefly his last two summers. In 1941, he celebrated his 100th birthday with a big party in Pamperin Park, accompanied by old acquaintances and friends of the family.

H.A. Straubel died in his sleep on March 23, 1943 at his winter home in Avon Park, Florida. He was 101. He was brought back to Green Bay and buried next to his wife in Woodlawn Cemetery. The order of Odd Fellows, the Green Bay Elks and Sullivan Post no. 11, American Legion, participated in the funeral services, conducted by the East Side Moravian Church.

Although he wagered that the automobile would never replace the horse when his son, Charles bought the first car in Green Bay, and said the same thing about airplanes out moding the car, he admitted his mistakes and kept pace with their development, even to the extent of taking a plane ride at the age of 93 with his grandson, Austin, out over his old hunting and fishing haunts on the bay.

A World War II Army Camp in Australia and Green Bay's international airport is named for his grandson, the late LtC. Austin Straubel, who was killed in air combat over Java in February 1942.

H.A. Straubel was survived by two sons: Charles A. Straubel of Green Bay, and Arthur F., of Portland, Oregon; three grand daughters: Mrs. B.E. Darling, Allouez, Mrs. Nan Rouse, Green Bay and Miss Jeannette, Portland; and eight great grandchildren. Among other surviving relatives were Ernest, Ed, Otto and Louis Straubel, all nephews.



---
From: Green Bay Press Gazette, Wednesday, March 24, 1943
Milwaukee Sentinel, Thursday, March 25, 1943

Researched by C-in-C Steve Michaels with assistance from Andrea M. Michaels