On August 6, 1883, a group of Civil War veterans met in Boscobel, under the leadership of Jake McLaughlin, and organized a local GAR post. Dr. L.G. Armstrong was elected commander; J.B. Rice, adjutant, and M. Ableiter, treasurer. A charter was issued to the group by Department Commander Phillip Cheek of Baraboo, who was later elected governor of Wisconsin. The post was named John McDermott Post #101, after a soldier from Fennimore, who was killed at Prairie Grove, Arkansas, trying to rescue the Flag from a fallen comrade. From 18 members the organization soon grew to 254. On January 8, 1886, the John McDermott Woman's Relief Corps #32 was officially established.
GAR Post #101 met at the fire house, city hall, a room above Archie Shaw's store, Ruka's Hall and the third floor rooms above the present Comfort Beauty Shop building. Years of climbing steps prompted a desire for ground floor quarters.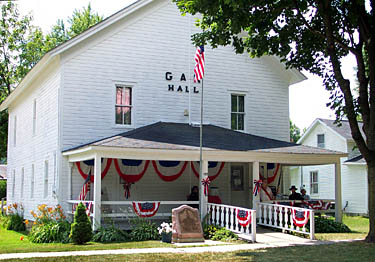 John McDermott G.A.R. Hall of Boscobel, Wis.
A former Baptist Church building was purchased in 1889. The building had a porch, meeting room, dining room and kitchen, where many memorable suppers were served, followed by programs of singing old army songs, recitations and best of all, reminiscences by the soldiers of their Civil War experiences.
Sons of Veterans' John Stahel Camp #34 was organized March 9, 1897. A year later, the Camp gave an entertainment for the benefit of Post #101, clearing about $80, which paid the debt of the Post Hall, leaving the same clear and giving the Post a deed to the hall.
Since the death of the last local Civil War veteran and the disbandonment of Camp #34, the Woman's Relief Corps has actively preserved the GAR Hall as a memorial to Civil War veterans and for the benefit of future generations. In 2003, L.G. Armstrong Camp #49 of the SUVCW was re-chartered in Boscobel and uses the Hall as it's meeting site. The Sons actively assist the WRC with Hall maintenance and fund raising efforts.
A ramp for the disabled has been built, leading to the front porch. The hall now has a security system, heat, air conditioning, insulation and storm windows.
On July 1, 1989, a monument was dedicated to Congressional Medal of Honor winner Jefferson Coates, who grew to manhood in Boscobel. The monument, now standing in front of the GAR Hall, had been unclaimed for many years due to the death of the man who ordered it. A service man traced its origins through military records and a Washington, Missouri Army Reserve unit brought the monument to Boscobel for the dedication. Mayor Reynolds and Governor Thompson both declared July 1st as Jefferson Coates Day.
Monetary contributions from visitors to the GAR Hall and from various orgamizations, like the Wisconsin Department SUVCW and ASUVCW, have helped preserve the Hall for future generations.