At the 1894 Wisconsin Dept. Encampment, held on June 20-22 in Eau Claire, 26-year old Bert H. Wood was elected Commander.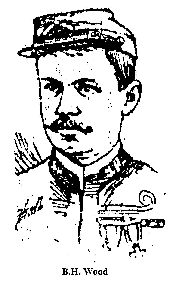 Wood was one of the 16 charter members of Custer Camp #46, organized in West Superior in May 1889. In five years, he filled all of the Camp offices to Past Captain. He was elected Dept. Sr. Vice Co. in 1893. Wood was a zealous and hard worker for the interests of the Order and gave much time and labor for its advancement throughout the state.
The eldest of three children, Bert Wood was born in September 1868 in Dane County and attended school in River Falls. He then worked for the West Superior Wave, taught public school in Hayward, served as school principal and returned to teaching. His ancestors had fought in every war from the Revolution to the Rebellion. His father,. Henry G. Wood, had been a sergeant in Co. K, 17th IL Cav. after serving as a private in Co. A, 67th IL Inf. After the war, he moved his family from Rockford, Illinois to the forests of northern Wisconsin, where he was a carpenter and later, clerk for the County Board of Health.
The younger Wood was quiet and unassuming in his manner, firm and staunch, a true friend at all times and in all places, and a strict temperance man. He was a member of the Congregational Church, the Odd Fellows and Knights of Pythias Orders, and had passed through the chairs of noble grand and chancellor commander in those Orders.
After the Panic of 1893, the Order continued to struggle. The Mineral Point Camp disbanded in July.
Relations with the GAR were not the best. Whether it was Wood's youth, his remoteness in Northern Wisconsin, his leadership style or the GAR's attitude is uncertain. In his parting remarks at the 1895 Encampment, he said that the relations between the Sons and the Grand Army were not all that they should be:
"We who went into the camps as boys know that at first, although the GAR approved of our order; they thought and talked of us as boys, and in many cases too much was expected of us and because we did not fulfill the expectations, we were roasted...But the GAR men are realizing more and more that we are not simply an organization to take their place when they are gone, but an order to assist them while they are here; and they, as well as the Sons of Veterans themselves, are awakening to the fact that we are no longer boys, but men."
The Department's membership decline had reversed, with an increase of nearly 100 to 719. There were 34 Camps. New Camps had been organized at Ashland, Augusta, Benton, Blaine (Sherman Camp #5), Clear Lake, DePere (Harrison Camp #91), Hazel Green, Oxford, and Rock Elm. In addition to two Ladies Aid Societies in Sheboygan and LaCrosse, two new organizations were chartered at Platteville and Superior.
His recommendations interestingly foretold future initiatives:
One should hold the rank of past Captain unless he'd presided over a majority of meetings during the term he was elected for; that the CR&R be amended to guard against unworthy persons; that the pre capita remain at 50 cents/year and profit margin for badges be 60% and other supplies at 25%; and that due to the shortness of Dept. funds, the The News Letter would be discontinued after publication of the July issue.
Br. Wood married Emma Jane Barkley in 1892, they had four children: Willie B.(1893-1982), Carl E. (1899-1873), Ray (1907-1908), and Walter A. (1915-1995).
After his term as DC, he and his family moved to Ashland, where he was an officer of the new 31-member W.W. Paddock Camp #21. In 1897, they moved to Minong, WI, and shortly thereafter to Hebron, Iowa, where he began farming. After about five years, the Wood family moved one last time, to Straight River Township, Hubbard County, in northcentral MN, where they continued to farm. Emma's parents joined them there.
PDC Bert Wood died on October 27, 1953 in Hubbard County at age 85.
Sources:
Ancestry.com
Hubbard County, Minnesota, Genealogical Society
Milwaukee Sentinel
Press Forward the Good Work, The History of the Wisconsin Department SUVCW (Vol. 1), by PCinc Stephen A. Michaels; 1997
---