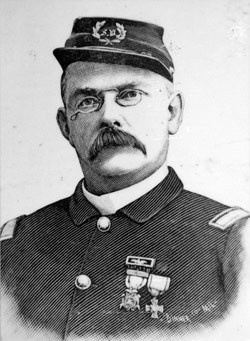 George Washington Wing was born in Chilton, on September 1, 1856, the son of Rufus L. and Mary E. Wing. He was four when the family moved to Ahnapee (Algoma). Shortly after the move, he was severely burned while playing with matches, leaving scars and physical defects, which hampered him throughout his life. The family moved to Kewaunee in 1868 and George left to attend Lawrence University in Appleton a few years after that. Upon his return, at age 16, he co-founded the first newspaper in Ahnapee. He then studied and practiced law with his father until his admission to the bar in 1877.
Rufus Wing enlisted in the 21st Wis. Inf. and raised part of a company at Ahnapee. He received a commission to raise a company for another regiment and continued to recruit until the Summer of 1864, when he went to the front as 1st Sgt. of Co. I, 43rd Wis. Inf. After his honorable discharge in July 1865, he studied law in the office of his cousin, Gen. B.J. Sweet, before being admitted to the bar. In 1884, he became one of the charter members of Kewaunee's John M. Read GAR Post 155.
In 1883 George married Miss Belle E. Dikeman and they had three children, George D., Grace W. and Charles R.
While practicing law with his father, he also served as cashier of the Kewaunee Exchange Bank. In 1888, he served as a delegate to the Nat. Republican convention in Chicago.
He held the position of County Judge from 1885 until 1890, when R.L. Wing Camp 63, Sons of Veterans, was chartered in Kewaunee. The Camp memorialized the elder Wing, who had died a year earlier. George owned a couple of tracts of land, which he used for his Camp's military training. After just a year, Camp 63 was one of two, which rated the highest in inspections. His intelligence, enthusiasm and willingness to support the Sons made him a natural choice for greater responsibility.
35-year old George Wing was elected Wisconsin Dept. Commander at the 1891 Dept. Encampment held in LaCrosse. During his term, he personally inspected camps in northern Wisconsin and motivated his Department to complete fund raising for a $450 fountain for the GAR Home at King. The two-year old initiative project was completed by the end of his term. In 1892, PDC Wing and three other brothers were appointed to a committee to purchase the fountain and place it in position. The fountain was installed in front of Fairchild Hall the following year. A recognizable landmark at the GAR Home, it remained operational into the late 20th Century.
During Wing's administration, new camps were chartered at LaValle, Mondovi, Iola, Waupaca, Bayfield and Kenosha. In his General Order 3, Wing announced that new Camps would be given numbers left vacant by disbandonment until all vacancies were filled. The first camp so assigned was Milwaukee's Badger Camp 109, which became Camp No. 1.
He promoted fraternal relations with the Grand Army, too. Some Camps had developed a dependent relationship with several aging GAR Posts. Some regulations and forms supported this notion, so he served on the Department's Constitution, Rules and Regulations Committee and was successful in promoting the philosophy that Camps should be looking after the needs of the GAR.
He served in lesser roles at the Dept. level after that, although in 1895, he served on the Department's Committee on Ritual.
When the U.S. intervened in Cuba, in 1898, PDC Wing organized a company of volunteers in the Kewaunee area and tendered his services as captain, but was not called. He did accept Governor Scofield's invitation to command the 5th Wisconsin and remained on the governor's staff afterwards. R.L. Wing Camp 63 did not survive the nationalistic fervor of the Spanish American War and while George's attention was turned elsewhere, the Camp disbanded in 1900.
Wing's most formidable weapon was his pen and his writings filled volumes. In later years, he wrote on local history, the records of the Civil, Spanish-American and 1st World Wars, and genealogy. He traced his family back to Puritan and Mayflower roots, publishing a family newsletter and serving as president of the Wing Family Association.
George Wing died April 12, 1924 at the age of 67 and was buried at Kewaunee's Riverview Cemetery. He had been a member of many lodges and fraternal orders and the Masons were in charge of his graveside ceremonies.
---
Information Sources:
Commemorative Biographical Record of the Counties of Brown, Kewaunee & Door, Illustrated, J.H. Beers & Co., Chicago 1895
The Kewaunee Enterprise, April 18, 1924
Press Forward the Good Work, History of the Wisconsin Department, Sons of Union Veterans of the Civil War 1882-1923 by PCinC Stephen A. Michaels, 1998