"Marinette's Most Distinguished Citizen"
The 1896 Dept Encampment was held in Marinette. Nearly 100 delegates attended. Many visitors stayed in tents in Higgins Park, where the meeting was held. Sessions were held in the Summer Theater.
While Rev. Walter J. Patton was elected Dept. Commander, a local man, Richard "Dick" Smith was elected Sr. Vice Commander. Smith was re-elected to that high post in 1897 and, when the Dept. Commander was absent at the 1898 Encampment, he ran the meeting. Br. Smith won the election and inherited a state organization of 683 members in 31 Camps.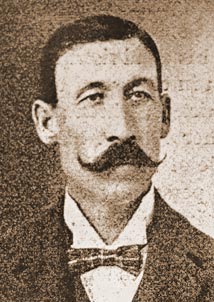 Br. Richard was born in April 25, 1860, near Hannibal, Missouri, the eldest of four children (three sons and a daughter) born to Andrew Jackson and Agnes (Dickie) Smith. Andrew and Agnes had moved to Missouri from Washington, Penn., and then back to Illinois, where they had been married. At the outbreak of the Civil War, Andrew enlisted in the 99th Illinois Inf., participating in several battles and the siege of Vicksburg. Upon his honorable discharge, he worked as a successful timber cruiser. On September 24 1871, the Smiths moved to Marinette, where they were one of the area's pioneer families.
After his education in the Marinette public schools, Br. Smith worked in the meat business. For 25 years, he was self-employed and worked for others before becoming a salesman for Swift & Co., traveling throughout Wisconsin and Michigan for five years.
He married Alice M. White of Brown County on November 9, 1887, and they had five children: Dr. George H. (1889), who married Elsie Lockey and became a well-known physician in Ashford, Wash.; Agnes (1891), who married Leslie Love and passed away at age 28; Morris (1893), who married Agnes Stibbe of Peshtigo; Ruth (1898) and Ralph (1901).
Br. Smith was one of the 15 charter members of Marinette's Harrison Camp #43, organized in 1889. He was the Camp's first Sr. Vice Commander. At the Camp's first annual election, Smith was elected Camp Commander. His popularity and faithful work was shown by his continuous election for seven consecutive years. The Camp flourished and was never without a quorum on meeting nights during this time. In 1895, Smith was appointed to the Department's Committee on Constitution, Rules and Regulations. Marinette secured the Dept. Encampment in 1896.
After his term as Dept. Commander, Br. Smith accepted the position of superintendent of the Marinette County Asylum, which opened in 1906. He was a dominant factor in the institution's growth. He established the Marinette County Agricultural Service Station at the asylum's farm. The station provided materials and instruction to area farmers. He converted the asylum into a self-sustaining institution and lived to see the last of the asylum's bonds paid off. At the time of his death, the buildings and equipment were valued at $273,000 with 400 acres under cultivation. His wife, Alice, served as matron. Br. Smith's son, Morris, managed the colony five miles from the asylum, composed of 290 acres, was under cultivation where purebred Holstein cattle and hogs were raised. The institution accommodated 194 inmates.
Br. Smith was also supervisor of the county home for indigent people, which had a capacity of 48. He was director of the Peshtigo State Bank and vice president of its board of directors. He was Marinette's 5th ward supervisor for 15 years and sat on the County Board of Supervisors. He was chairman of the County road committee for ten years.
In late 1924, he was one of five men honored by the State University for distinguished service to the people.
In addition to the Sons of Veterans, Br. Smith was also a mason in the Blue Lodge Chapter Council and Commandery, the Independent Order of Odd Fellows, the Benevolent Protective Order of Elks, the Woodmen and the Rotary Club. He served as president of the Peshtigo Commercial Club.
Br. Smith suffered a cerebral hemorrhage after a gall stone operation. He died on September 4, 1925, at the Marinette & Menomonee Hospital. Friends said his whole life was one of accomplishments and generosity to his fellow men. He was regarded as a Peshtigo citizen, assuming leadership where civic welfare was concerned. His advice was constantly sought. During his funeral, a procession of cars three miles long followed the remains to Marinette's Forest Home Cemetery.
Sources:
Marinette Eagle Star, September 4, 1925, pp. 1 & 8
Peshtigo Times, Vol. 16 #34; September 19, 1925, p.1
Press Forward the Good Work, The History of the Wisconsin Dept. SUVCW (Vol. 1) , by DC Stephen Michaels c.1997
Stephenson Public Library, Marinette, Wisconsin
---