At the 2nd Wisconsin Department meeting, June 13, 1885, a 38-year old Milwaukee undertaker, Samuel F. Peacock, was elected commander.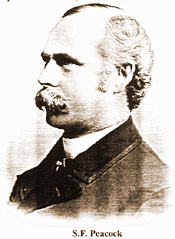 Peacock was described as an enterprising man. He had been librarian of the Young Men's Association and was suggested as a Democratic candidate for 7th Ward supervisor. He organized the Wisconsin State Funeral Directors in 1881 and then served as an officer of the association for 25 years, including four terms as president.
Samuel Peacock was born April 27, 1947, in Leeds, Yorkshire, England. His father, Francis Peacock, worked in the merchantile lumber business, and came to the U.S. in 1843. He went back and returned with his wife, Annie Stead Peacock, and son Samuel in 1848. They then moved to Milwaukee in 1850.
In August 1861, the elder Peacock enlisted as a private in Co. B, 24th Wisconsin Infantry and was wounded in the left shoulder during the regiment's first battle. He was sent home to Milwaukee on sick furlough, dying four months later, on December 11, 1863.
After school, the younger Peacock became an undertaker's apprentice and on January 1, 1877, established his own business. He quickly became successful, taking charge of more burials than any other firm in Milwaukee. He was also popular in social, fraternal and commercial circles. He belonged to the Merchants and Manufacturers Association, as well as a number of fraternal organizations, including the Benevolent & Protective Order of Elks (where he served as Exalted Ruler), Junior Council of National Union, Catholic Foresters, and Catholic Knights.
On December 10, 1869, he married Miss Hariet "Hattie" Downer, daughter of Frederick and Margaret Downer of Milwaukee. To this union were born Frank J.(1870-1944) and Hattie (1876-1936). Frank J. married Miss Mary A. Birkle and they had three children: Urban F.(1891-1965), Frank A.(1894-1958) and Samuel (1887-1960). In 1889, Frank J. joined his father in the undertaking business. Hattie married John A. Roddy, who worked in the credit department at T.A. Chapman.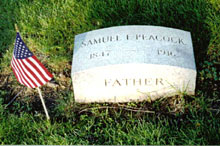 During Br. Peacock's term as Wisconsin Dept. Commander, Madison's Col. Charles Gill Camp #15 and Eau Claire's Art Ellis Camp were chartered. He himself had joined the Sons only a year earlier, as a member of Robert Chivas Camp #7. In this new fraternal and hereditary organization, most of his fellow brothers were 15 to 20 years younger than he was. Fluctuations in interest, heartiness and membership were very common. Brother Peacock's business distractions and other organizational interests certainly took their toll. When he stepped down in July 1886, there were only three Camps in working order. He left the Order shortly afterwards.
Samuel Peacock died on June 4, 1916 at the age of 69 after suffering due to declining health for two years. He was buried with his parents at Calvary Cemetery in Block 5, Section A, Lot 317. His wife joined him less than a year later.
Written by Stephen Michaels, PCinC