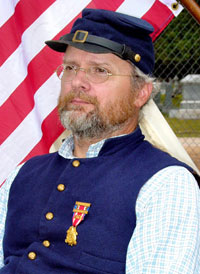 Dept. Commander Randy Novak was born in 1956 in Mendota, Illinois, and remained in that general area until about age 19. While growing up the family moved around a lot from farm to farm, as his folks were tenant farmers. They ended up living on his grandparent's place, which was the original homestead/farm of John William Weidner, his Civil War veteran ancestor. The house and several of the buildings were built shortly after arriving in this country in the 1850's. One of his son's was Randy's great uncle Ern who lived on the farm his whole life, never marrying. Ern never threw anything away.
The Commander wrote, "When he moved out into a nursing home and my grandparents moved into the house in the early 60's, my grandmother, and then my mother did save some documents they had found, including the old veterans muster and pension papers, which were passed along to me. John Weidner was in the 4th Illinois Cavalry, and I clearly remember my grandmother showing me a picture of him in uniform, with saber in hand."
Ernst Frankenberg first interested Randy in the SUVCW during the "Spring Muster" at Greenbush one year. Shortly after Steve Michaels approached him about starting a Camp in the Oshksoh area, which was done, forming Old Abe Camp a couple of years later. It was named "Old Abe" as the first Camp in Oshkosh in 1885 was by that name. Randy was Camp 8 commander for three years. About that, he wrote, "My goal was, before my three years were up, to make Camp 8 a recognized and accepted part of the community, which I feel we are achieving."
He has also been involved in re-enacting for about 5 years, serving with McAllister's Battery which is based out of the northeastern IL area.
---