Lumberman, Banker, Captain of Industry, Department Commander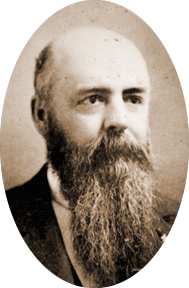 Robert Laird McCormick was born October 29, 1847, at Bald Eagle farm, Clinton County, Penn., the child of Alexander and Jane Hays Laird McCormick. Robert's mother died when he was two years old. He attended Lock Haven's graded school from 1954 to 1861. In April 1861, he went with Co. B, 11th PA Inf. to Harrisburg, but was sent home as he was too young for service. He was then sent to Saunder's Military Institute in West Philadelphia, where he remained during the war. Meanwhile, Alexander McCormick, who was a real estate agent, reportedly served three years as a private, usually on detached service due to feeble health.
After the Civil War, Robert studied law in Williamsport. He then worked in the P & E Railway Co. general office for several months before clerking at a general store in Tiffin, Ohio. In March 1868, he became a cashier for the Laird-Norton Company, his uncle's lumber company in Winona, Minn.
McCormick married Anna Elizabeth Goodman (1850-1935) on September 11, 1870. They had two sons: William Laird (1876-1953) and Robert Allen McCormick (1885-?). A daughter, Blanche Amelia (1873), died in infancy.
In 1874, loosing his health from confinement in the office, he opened a profitable retail lumberyard at Waseca, while continuing to work in his uncle's firm. He also held interests in the large stone quarries of W.B. Craig & Co. at Mankato, Minn. He was elected mayor of Waseca and served in the Minnesota State Senate (1880-82). He remained there until 1882, when he and A.T. Hayward of Oshkosh erected a sawmill in the wilds of Sawyer County, Wisconsin. This was the start of the Northern Wisconsin Lumber Co. and the flourishing city of Hayward. Upon Sawyer County's organization in 1883, Governor Rusk commissioned McCormick as County Treasurer, a position he served in for six years.
In January 1884, in partnership with St. Paul multi-millionaire Frederick Weyerhauser, he organized the Sawyer County Bank and served as its first president. In 1890, McCormick also organized the Northern Grain and Flouring Mills company at Ashland.
Following the reorganization of Hayward's Solomon Meredith GAR Post, L.P. Harvey Camp 96 was organized on February 2, 1891, with a charter membership of 19. A Camp had been organized there years earlier, but like the earlier GAR Post, was not successful. McCormick was considered the father of Camp 96 and assisted it materially in keeping its organization.
Brother McCormick was appointed to the Committees on Ritual and Reports of Officers at the 1891 Dept. Encampment, held in LaCrosse. Later at the convention, he was elected to the Dept. Council.
From the four candidates at the 1892 Dept. Encampment, held in Oshkosh, the 45-year old McCormick was elected Commander over 56 Camps. Despite the Financial Panic of 1893, efforts at growth continued. Camps at Kilbourn City (Wisconsin Dells) and Wausau were chartered and an attempt was made to re-establish a Camp at Menomonee, Michigan.
Additionally, McCormick served on the Sawyer County Board of supervisors (1892 and 1902) and was President of the Wisconsin State Historical Society (1901-1904). He was also active in Republican politics and was a Wisconsin delegate to the 1900 Republican National convention in Philadelphia and at Chicago in 1908.
As a result of his extensive business and political interests, Br. McCormick's participation in the Sons of Veterans (SUVCW) virtually disappeared after he stepped down as Dept. Commander in 1893. By 1899, Hayward seemed to have lost interest in the Sons, as one of the members advised that he was too busy to write a sketch of the Camp for that's year's Dept. Encampment program.
In 1908, PDC McCormick moved to Tacoma, Washington, becoming secretary of the Weyerhauser Timber Company and president of that state's historical society and two banks. He was appointed Republican National Committeeman from Washington in June 1908.
He was an eminent member of the Masons, Sons of the American Revolution, Society of the War of 1812, the Minnesota Club and trustee of the First Congregational Church of Hayward.
PDC Robert McCormick died near Sacramento, presumably while on a business trip, on February 5, 1911 at age 64. He was transported back to Washington and buried in Old Tacoma Cemetery.
---
Information Sources:
Wisconsin Men of Progress by Andrew Jackson Aikens & Lewis A. Proctor; Evening Wisconsin Co., 1897
Milwaukee Sentinel, February 7, 1911
Press Forward the Good Work, The History of the Wisconsin Dept. SUVCW (Vol. 1) by PCinC Stephen A. Michaels; July 1997
Tacoma Daily Ledger, February 6, 1911
Tacoma: Its History & Its Builders, a Half Century of Activity by Herbert Hunt; S.J. Clarke Publishing Co. 1916
Washington West of the Cascades by Herbert Hunt; S.J. Clarke Publishing Co. 1917
Research assistance from Denise Ottoson