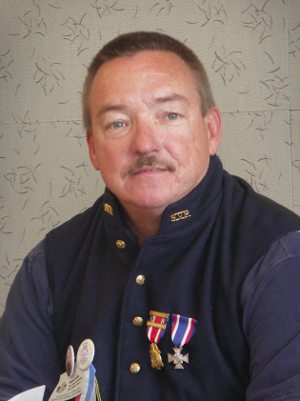 Bruce C. Laine was elected Department Commander at the 125th Wisconsin Department Encampment in Kenosha on June 9, 2008. Brother Laine previously served in the Department offices of Graves Registration Officer, Junior Vice Commander, and most recently Senior Vice Commander.
Bruce grew up in Orange, CT and did not know he had a Union ancestor, until 1991, when he found a GAR "Leave of Absence" card from Abraham Lincoln Post #4 in Walla Walla, WA. After much research, Bruce discovered that the name on the card, Andrew Craig, was his great great grandfather. Andrew was born in Saline Township, Michigan in 1831, to Elijah and Temperance Craig. Andrew was the oldest of five children. He enlisted in Co. G, of the 1st Michigan Infantry on May 1, 1861 in Burr Oak. He was capture at Bull Run on July 21, 1861 and was a POW at Charleston, SC and Richmond, VA until he was exchanged in May, 1862. He was discharged on May 20, 1862, when he returned to Michigan. Andrew's younger brother, Elijah, also served in Co. G, of the 30th Michigan Infantry.
Bruce joined the SUVCW in 1992, in Massachusetts, and in 1993 he moved to Illinois and transferred his membership to Custer Camp #1 in Wilmette. In 1995, Brother Laine was again transferred by his employer, this time to Michigan, and became a member of Gilluly-Kingsley Camp #120 in Howell. In 1997 he moved to Eagle, WI, and became a member of Ammi Hawks Camp #3. When MG John Gibbon Camp #4 was formed in 1998, he transferred into the new camp. In Camp 4 Brother Laine has served as Secretary/Treasurer, Junior Vice Commander, Senior Vice Commander and Camp Commander. Bruce is also a member of the Sons of Veterans Reserve, 28th Wisconsin, Co. B.
Brother Laine is a graduate of Franklin Pierce University, in Rindge, New Hampshire with a degree in Business Management. Bruce has been employed by First Student (through acquisition) since 1988 and has been Region Safety Manager since moving to Wisconsin in 1997.
Bruce is married to Gisele (a.k.a. Gigi) and they have two children, daughter Danielle and son Andrew. Danielle has been a member of the ASUVCW and plans to join the reactivated Ammi Hawks Auxiliary #5. Andrew is also a junior member of the SUVCW.
---
Maintained by: Dept. Signals Officer
Last Update:
Sons of Union Veterans of the Civil War
Department of Wisconsin