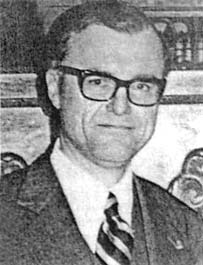 PDC Thomas L.W. Johnson
(undated photo)

Thomas L.W. Johnson joined Oak Park, Illinois' Camp 12-100 on December 1, 1950, basing his membership on the service of Pvt. Albert W. Wemble, Co. K, 3rd Iowa Vol. Infantry. Wemble fought at Shiloh and Vicksburg. Another ancestor, Pvt. Demas L. Coe, served in four different Ohio infantry regiments. He transferred to Madison's Henry Harnden Camp 2 and soon served as Camp Commander. He also served two terms as Dept. Chaplain and as member of the Dept. Memorials and Plaques Committee.

PDC Johnson joined the Wisconsin Association of Collegiate Registrars and Admission Officers in 1959. After several committee assignments, he served as the association's historian for 18 years from 1978 – 1996. He served as association president, 1991-92, and was editor of the WACRAO newsletter from 1993 until his death. As president and newsletter editor, he was also a member of the Executive Committee, beginning in 1990.

PDC Johnson was a native of Rockford, Illinois, and graduated from UW-Madison with a bachelor's degree in 1954. He earned a master's degree from the University of Kansas in 1959, and served as an officer with the U.S. Army in Kansas and Germany from 1955 to 1957. He began his career at UW-Madison in 1959, working his way up from an assistant to the executive associate registrar, the No. 2 position with office-wide responsibilities. He held the latter position for his last seven years. During his tenure, he led efforts to create a special admissions office for non-degree students and to adopt a "compassionate" refund policy, which became policy in 1991 and provides tuition refunds for students who have to withdraw for medical or family emergencies. He also served on many university committees and was a member of several state and national groups for registrars. He was a book reviewer for a quarterly journal and belonged to several patriotic organizations, including the Madison Veterans Council. He retired from the registrar's office in 2003.

In 1963, during the Civil War Centennial, he was elected Dept. Commander and was re-elected twice. DC Johnson focused the membership on improving the Department by appointing a committee to consider suggestions. He appointed a Chief of Staff to raise Department funds and began the practice of holding Mid-winter meetings to keep the membership better informed about National and Region news. During his tenure, Governor Warren P. Knowles and his brother, State Senator Robert Knowles were initiated into the SUVCW. The Governor later signed a proclamation, designating 1966 as the GAR's Centennial Year in Wisconsin.

PDC Johnson continued to serve on the Dept. Council and was Dept. Counselor for most of his successors. In 1968, he began one of many terms as chairman of the Wis. Dept. Encampment, coordinating the agenda with the facilities in Milwaukee. He also supervised the Department's U.S. Grant ROTC Awards program and continued to serve as his Camp's Secretary/Treasurer until 2001.
In this 1985 photo at the Lincoln Tomb, ceremony co-chairman and presiding officer PDC Johnson (far right) is seen with (l-r) True Son William H. Upham, Senior Vice Commander-in-Chief, Military Order of the Loyal legion; Col. Robert M. Graham, 114th Illinois Vol. Inf. and ceremony co-chairman; Eugene Russell, Commander-in-Chief, SUVCW.

In 1983, he was again elected Wisconsin Dept. Commander and served in that position until 1997.

PDC Johnson served as Central Region Commander in 1964. For the next 32 years, he was instrumental in keeping the Central Region Conference alive, scheduling program topics and speakers. It was during this time that he met and worked closely with PNP Ellinore Konrad. The two were married October 9, 1974. She preceded him in death on October 5, 2001.

Transcending his contributions at the Department and Region levels was his association with the Lincoln Tomb Ceremony, held each April 15th in Springfield, Illinois. In recent years, his name was synonymous with the observance. In 1963, he began working with the event's organizer, Illinois Department's George Cashman. Soon afterwards, he was appointed co-chair of the event. When PCinC Cashman died in 1983, PDC Johnson continued as co-chair, moderating both the ceremony and the luncheon until his last appearance, in 2004.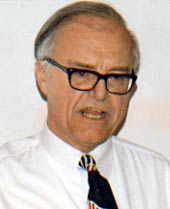 PDC Johnson at the 2001 Dept. Encampment


He also served as President of the Lincoln Deathday Association in 1989-1990 and was the group's Secretary/Treasurer at the time of his death.

In 1979, he joined the Military Order of the Loyal Legion of the United States (MOLLUS) and soon after, organized the Wisconsin Department. He served as Dept. Commander from 1996 through 2000. PDC Johnson is survived by a brother, Coe Johnson.

On June 9, 2001, PDC Johnson was awarded the SUVCW 50 year badge at the 118th Wis. Dept. Encampment, held in Waukesha.

PDC Thomas L.W. Johnson passed away in Madison, Wisconsin, on January 1, 2005, suffering from deteriorating health for some time. He was 72 years old.


PC-in-C Steven A. Michaels
C.K. Pier Badger Camp #1
---
Maintained by: Dept. Signals Officer
Last Update:
Sons of Union Veterans of the Civil War
Department of Wisconsin