Riding the Crest: Charles H. Hudson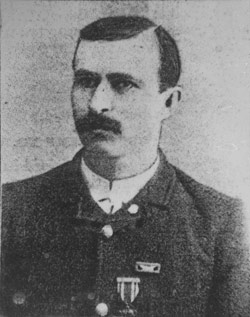 At the Department Encampment, held in Madison on June 30, 1888, U.S. mail carrier Charles H. Hudson was elected Dept. Commander. He had joined the Sons only a couple of years earlier, when Madisonís Col. Charles Gill Camp 15 was organized.
His father, John W. Hudson, was a pioneer in the Madison grain business and later, was a manufacturer, banker and developer. He was one of the first to see the coming value of Madison suburban property. Elmside, Wingra Park and University Heights were platted by his real estate company. He enlisted in Co. D, 23rd Wisconsin Infantry in August 1862 and was discharged due to disability in October 1863. The elder Hudson also served as commander of Madisonís C.C. Washburn GAR Post #11.
Charles Hudson was born March 10, 1858, the third of four children. After graduating from school, Charles worked as a teacher in Jackson, Iowa, before returning to Madison and getting a job with the U.S. Postal Service.
Charles Hudsonís term as Department Commander was associated with tremendous growth. Interest in the Order mushroomed with the announcement that the National GAR Encampment would be held in Milwaukee the following summer. Within a year, the Department grew from 300 members in 25 Camps to nearly 40 Camps with over 1500 members in the state. The McClelland Camp in Menomonee, Michigan was part of our department. Numerous Camps were chartered in the state, including those at Baraboo, Mauston, Milwaukee (Rufus King #29 and C.K. Pier #35), Sheboygan, Marinette, Waupaca, Stevens Point, West Superior, Oconomowoc and West Salem. There were 26 communities where Sons assisted in Memorial Day services.
"Colonel" Hudson was re-elected Dept. Commander in 1889 and the Department continued to grow to 68 Camps. New Camps were chartered at Green Bay, Portage, Thorpe/Longwood, Plover and Antigo that year.
Although active since 1882, the Wisconsin Department was officially chartered on September 2, 1889, with rank from 1887. Hudson was one of the 24 Past Department and Camp Commanders, whose name appeared on the charter. During his administration, the first Ladies Aid Society (Auxiliary to the SUVCW) in the state was organized in Milwaukee and the first Order-wide celebration of Lincolnís birthday (Union Defenderís Day) was celebrated on February 9, 1890.
The following year, Charles married Grace Wright, the daughter of a Winona, Minnesota, real estate man and fire insurance agent. The two had three daughters: Margaret, born in November 1891, Mary H., born in September 1893, and Dorothy, born in June 1897.
When his father died in 1901, Charles moved next door, into his fatherís house at 221 N. Pinckney. There he looked after his mother until her death in 1912, and took over many of his fatherís real estate investments. He left his job with the post office to devote all of his energies to those interests and was one of the investors in Madisonís Highland Park subdivision, west of University Heights, which opened in May 1906.
In the years following his terms as Department Commander, Hudson continued to play an active roll in the Sons of Union Veterans. In December 1901, he was a charter member of Milwaukeeís C.K. Pier Badger Camp #1. In May 1902, he reorganized the Madison Camp as Henry Harnden Camp #2 with 30 charter members and served as its commander. In the 1910s and again in the 1930s, he served as the Department Secretary/Treasurer. A post-war depression and stock market crash had decimated the ranks of the Department until there were just under 500 members in 17 Camps.
After his wife died in the 1936, Hudson spent his winters in Texas. He died on February 12, 1939 at the age of 80 and was buried in Madisonís Forest Hill Cemetery. His grave in Section 30, Lot 005 (# 10), is unmarked.
---
Information Sources:
Biographical Review of Dane County, Wis.; Biographical Review Publishing Co., Chicago 1893
Forest Hill Cemetery
Madison.com
Madison, Past and Present edited by David Atwood; Wisconsin State Journal, Madison 1902
Press Forward the Good Work, History of the Wis. Dept. SUVCW by PCinC Steve Michaels, Milwaukee 1997 and 1999
U.S. Census records