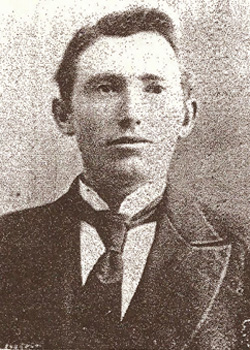 The 1905 Dept. Encampment was held June 13-14th at La Crosse's Hotel Grand with business sessions being held at Gile Hall. The highly contested office of Dept. Commander was filled by John A. Hazelwood of Jefferson on the third ballot. Br. Hazelwood had helped organize Jefferson's John Logan Camp #10 three years earlier.
Uncommon during this time, Hazelwood had "moved through the chairs," serving as Dept. Jr. Vice Cmdr. in 1903-04 and Dept. Sr. Vice Commander in 1904-05. He advocated that the Dept. be placed on a more business like basis and recommended that the Dept. Secretary and Treasurer be elected to terms of three to five years.
His term as Dept. Commander was marked with personal tragedy when his mother died on September 30, 1905.
The Dept. boasted 557 members in 22 Camps, but by the 1906 Dept. Encampment, membership had dropped to 524 members in 19 camps. Despite professional commitments, Br. Hazelwood continued his service as a Dept mustering officer in 1908.
Br. Hazelwood was born October 28, 1867, in Concord, a small town in Jefferson County. He was one of five children born to Adam and Sarah Sophie (James) Hazelwood. His mother was Welsh. His father emigrated from Germany in 1847, naturalized in 1861, and enlisted in Co. G, 20th Wis. Inf. a year later. Wounded at the Battle of Prairie Grove, Arkansas, he participated in the sieges of Vicksburg and Mobile. He was mustered out in July 1865.
The younger Hazelwood graduated from the Concord public schools and attended St. John's Military Academy in Delafield. He attended law school at the University of Indiana at Valparaiso. For ten years, he taught at the public schools at Ixonia, Oconomowoc and Valparaiso Normal School. He returned to Wisconsin and in 1898, was elected superintendent of Jefferson County schools and was re-elected three times. While teaching, he was elected president of the Southern Wisconsin Teachers' Association, vice president of the Wisconsin Teachers' Association and president of the County Superintendents Association.
In 1905, he began practicing law and served as Jefferson city attorney for several years. Br. Hazelwood was elected to the Wisconsin Senate on the Democratic ticket in 1906 and served one term.
In 1910, he joined Warren H. Porter as a junior law partner. The firm of Porter & Hazelwood practiced in the state courts for a couple of years.
Br. Hazelwood was an enthusiastic advocate for quality roads due to the growing number of motor vehicles. When the Wisconsin State Highway Commission was formed in 1911, he was elected chairman, a non-paid position. The commission concerned itself with marking trails as roads with appropriate signage, road maintenance, and the establishment of a state highway department (precursor to the WIDOT). The Wisconsin Road School was held for county and city road commissioners to discuss best practices for road building and maintenance.
In 1913, Br. Hazelwood was made secretary and chief examiner of the State Civil Service Commission. He contributed much to the advancement of civil service principles so that nearly every state department was subject to the commission's rules and regulations, and its employees were free from political influence.
Br. Hazelwood also served as a lecturer at the University of Wisconsin's Library School from 1916-18.
On July 2, 1901, he married Helen Louise Snyder (1874-1966) in Hartford, Wisconsin. They had one child, Clark (1902-73).
In 1922, Br. Hazelwood resigned from the civil service commission and moved to Milwaukee to resume the practice of law. Later that year, his health began to deteriorate. He suffered from an abscess of the liver, spleen and pancreas. He died in Milwaukee on January 28, 1923, from complications of pneumonia. He was 55 years old and was buried in Oconomowoc's LaBelle Cemetery with his mother.
The state legislature passed a joint resolution, honoring him as "a man of wide and beneficial influence."
A year later, John Logan Camp 10 was dropped from the National rolls for non-payment of dues.


Written by Stephen Michaels, PCinC
---
Information Sources:

The Blue Book of the State of Wisconsin 1909
Bulletin of the University of Wisconsin
Journal of Proceedings of the 56th Session of the Wisconsin Legislature 1923 Demcocrat Printing Company, Madison, Wis.
Library School of the University of Wisconsin Catalogue, 1916-1918; Wis. Free Library Commission; Madison, Mar 1917
Press Forward the Good Work, History of the Wis. Dept. SUVCW (Vol 2) by PCinC Stephen Michaels, 1998
Roster of Wisconsin Volunteers in the War of Rebellion, 1861-1865 by Wis. Adj. Gen. 1866.
The Wisconsin Municipality, Vol. 14; Madison, Wis. 1914
Wisconsin: Its Story and Biography, 1848-1913, Vol. 7 by Ellis Baker Usher 1914