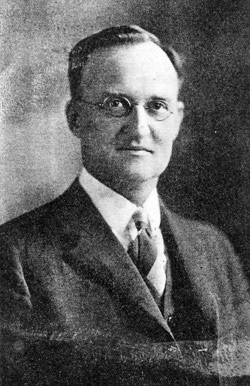 William Roswell Graves, a 44-year old Prairie du Chien attorney, was elected Wisconsin Department Commander at the 1917 Dept. Encampment, held in Kenosha and was installed by Commander-in-Chief William T. Church of Chicago. In the year prior to the U.S. entry into World War I, the Department was at its highest point, boasting 64 Camps and about 1,850 members.
Graves was born in the town of Hanley, Crawford County on January 29, 1873, the second of four children born to Alanson and Hannah Graves. His great great grandfathers had fought in the American Revolution. His father, a private in Co. D, and Co. K, 31st Wisconsin Infantry, had participated in Shermanís Campaign through Tennessee and the siege of Atlanta. He was with Sherman on his march to the sea, in the North Carolina campaign and in the battle of Bentonville before taking part in the Grand Review and being mustered out a sergeant in June 1865.
The younger Graves graduated from Boscobelís High School in 1889 and taught in both Grant and Crawford County. The next year, he entered UW, obtaining a degree in public instruction in 1895. After graduating from UW, he worked as a principal at several schools in Wauzeka and Hazel Green. In 1898, while working as a high school principal in Soldiers Grove, he was elected clerk of court. He obtained his law degree from the Chicago Law School in 1902. Terms as County DA and Judge followed. He served as president of the Crawford County Bank and vice president of the Bank of Prairie du Chien. He also owned and managed two lumber companies. Graves served on the school board, as city superintendent of schools and on the library board. He was a member of the University Board of Regents and served on the state board of education from 1918-20 and was a member of the state assembly in 1930.
Graves married Martha Horsfall on June 24, 1903 and they had four children: Florence, Roswell H., Lisetta and David A. Martha served as both Fort Crawford Aux. 9 President and Wis. Dept. Aux. President.
He organized Fort Crawford Camp #3 in Prairie du Chien on February 4, 1914, and served as its first commander. The Camp associated itself with the cityís Phil W. Plummer GAR Post #37. Prior to being elected DC, he served on the Dept. Council and as Dept. JVC. Afterwards, Graves served as the Departmentís Camp Organizer, reorganizing a Camp at Ellsworth and establishing another at LaCrosse. He was one of three brothers on the Dept. GAR Memorial Fund committee and served as Dept. Counselor up until 1930. Throughout, he served as his Campís Secretary.
It was the custom then that the Jr. Vice Commander-in-Chief was selected from the Department hosting the National Encampment. When Wisconsin hosted the 1937 National Encampment in Madison, Graves was elected to the high post. Afterwards, he resumed service as Dept. Counselor.
When the organizational meeting of the future Central Region Association was held in Prairie du Chien in 1940, PDC Graves served as acting secretary. His minutes survive as an historical record of that event.
In addition to the Sons, Graves was also a member of the Sons of the American Revolution, the Knights of Pythias, Modern Woodmen of America, Order of the Eastern Star, DeMolai Commandery, Wisconsin Consistory of the Scottish Rite, Tripoli Temple, AAONMS, RAM, F&AM, KT and a life member of the State Historical Society and of both the American and Wisconsin Bar Associations.
William R. Graves passed away on June 18th, 1949, at the age of 76 and was buried at Prairie du Chienís Evergreen Cemetery. Fort Crawford Camp #3 disbanded in September that year. He was survived by his wife, three children, a brother, A.J. Graves of Madison a sister, Mrs. L.A. Martin of Boscobel, and seven grandchildren.
Written by Stephen Michaels, PCinC
---
Information Sources:
from Southwestern Wisconsin: A History of Old Crawford County (Vol. 3) by John G. Gregory; S.J. Clarke Publishing Co., Chicago 1932
The Courier Press, June 21, 1949
US GenWeb Archives info by Br. Burdette Coberly, L.G. Armstrong Camp 49
Assistance from the Prairie du Chien Library is gratefully acknowledged.