Growing the Order through Fraternity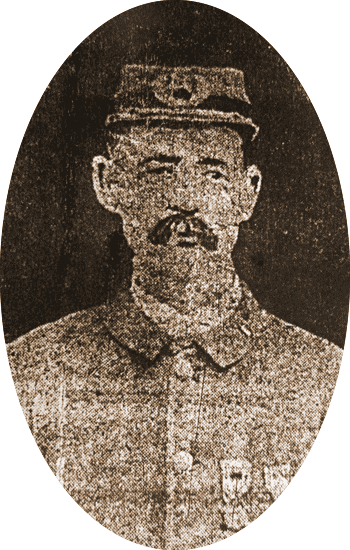 Burton Fox was born February 22, 1857, in Hebron, Jefferson County, Wisconsin.  He was the youngest of eight children born to Sylvanus Lafayette and Charlotte Fox.  Sylvanus had come to Hebron from Connecticut to farm the land recently cleared by lumbering.  He married Charlotte there in 1846.  In 1858, the family moved to Plover in Portage County.

In September 1861, Sylvanus enlisted in Co. G, 12th Wisconsin Infantry and served as a wagoner and served three years.  In February 1865, he enlisted in Co. K, 2nd regiment of Hancock's 1st Corps and served another year.

After the war, the family moved to Meehan.  Burton worked in lumber camps near Grand Rapids (later Wisconsin Rapids), Wisconsin.  There, Burton met and married Myrtle Frost on April 24, 1879.  The couple moved in with Myrtle's parents and had three children: Fred Burton (1882-1945), Effie M. (1884), Frank H. (1887) and Donald.  Myrtle died in 1892 at age 28.  Burton moved to a farm near Meehan, where he lived the rest of his life.

On March 26, 1894, Burton married 23-year old Jennie Bailey Slack. They had fourteen children: Donald L. (1895-1967), Garrett O. (1896), Vilara V. (1898), Jennie V. (1899), Olin D. (1904), Edith (1905), Mamie (1907), Layton (1909-1992), Howard (1912) and Elizabeth (1914).  Four children died in infancy. Additionally, Jenny's son from a previous marriage lived with them.   
Burton became a successful farmer and farm machinery dealer at Plover's Meehan station on the Green Bay & Western railway.  Despite his busy work and family life, Burton was widely known throughout the county for his interest in community and public affairs.  At various times, he served as side supervisor, justice of the peace, and Meehan School Board director.  During WWI, he was the town chairman during Liberty loan drives.  He was an organizer and director of the United Brethren (Community) congregation and helped build its first church.  He helped form the Meehan Community Club and served as Meehan correspondent to the Stevens Point Daily Journal.  Additionally, he was actively involved with the Sons of Veterans.

When Burton Fox was elected Dept. Commander in 1903, he had already been a member for nearly 14 years.  He joined Plover's Col. Alban Camp #83 in 1889.  When the Camp was rechartered the following year as A.J. Welton Camp #83, he was elected its first Commander.  It was his and a few others' determination that kept the Camp alive after the younger members' interest and enthusiasm had waned.   Soon the Camp was again on firm footing, assisting Plover GAR Post #149.

Br. Fox was serving as Camp Quartermaster when the 1902 Dept. Encampment was held at Stevens Point's Odd Fellow's Hall and he was elected Dept. Sr. Vice Commander.  As such, he was charged with building more fraternal relations between Camps, arranging excursions, picnics and joint meetings of Camps and visits by brothers from one Camp to another.

His efforts had a positive affect.  During Fox's term as Dept. Commander, the Dept. grew to 927 members in 32 Camps.  Six of the Camps were chartered during his administration, including Geo. R. Gardiner Camp #12 in Grand Rapids, where his first wife's family lived.  Sadly, it was suspended a year later.

The proposition for a cottage at the Wisconsin Veterans Home at King was referred to the Camps.  At the next encampment in 1904, Fox was elected to the Dept. Council and was appointed to a committee of three to solicit funds for the erection of a Sons cottage at the Veterans Home. A goal of $800 was set for building and furnishing a cottage.  The project continued over the next 20 years. Br. Fox's last Dept. position was as an Alternate Delegate to the 1909 Nat. Encampment.

Burton's eldest son, Fred, was appointed Dept. Sergeant Major in 1905, Color Bearer in 1909 and elected to the Dept. Council in 1913. 

Another Grand Rapids camp was tried in 1915, but to no avail.  Camp 83 disbanded in 1928.

PDC Burton Fox died April 23, 1935, at age 78, while visiting a daughter in Milwaukee.  He was taken back to Plover and buried in Meehan Cemetery.  Jennie died on April 12, 1960 and was buried next to him.
---
Information Sources:
Ancestry.com
"Press Forward the Good Work - The History of the Wisconsin Dept. SUVCW" (Vol 2) by DC Steve Michaels; July 1998
Steven Point (Wisconsin) Daily Journal, April 24, 1935
Research assistance provided by PDC Brian G. Peters