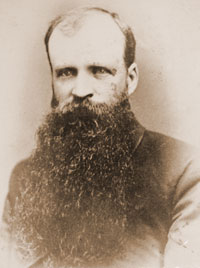 When Dr. John Finney died on July 27, 1898, at age 52, the Wisconsin Department lost one of its leading pioneers.
During the early days of the Department, Finney was appointed an organizer by the National Staff and, using his own resources, traveled throughout the northern part of the state, organizing 16 Camps. The first was Lyman Clinton Camp #2 in Clintonville, chartered on May 24, 1883.
Early in 1884, Finney was appointed Wisconsin Department Commander, and at the first Dept. Encampment in Oshkosh on June 3rd, at the age of 38, was elected to succeed himself. During his term, Finney organized Oshkosh's Old Abe Camp, which was chartered in May 1885. After serving as Dept. Commander, he commanded the 36-man Clintonville Camp. In 1889, he helped reorganize the Camp as John B. Wyman Camp #32, named after the town's GAR Post.
Born in Rochester, New York in 1846, John Finney was one of nine children, born to Irish immigrants, who had come to the Empire State by way of Canada. His father, Patrick Finney, moved the family to Washington County, Wisconsin in 1849, where he opened a claim. Later, he engaged in the mercantile business in Milwaukee, then a hotel business at DeKalb Center, Illinois, and in 1855, farmed in Clayton County, Iowa. In 1861, the Finney's moved to Madison, Wisconsin, where in August, Patrick enlisted in Company A, 7th Wis. Infantry of the Iron Brigade. He lost an arm during the battle of Gainesville, Virginia and was discharged. The family then moved to Oshkosh.
When John was 19, he took a two year course at the Ohio Medical College in Cincinnati. In 1870, he began practicing in Oshkosh, where he remained three years. During the next year, he moved to Kaukauna and Holland, Wisconsin, before finally settling in Clintonville, where he remained the rest of his life. His specialty was surgery and diseases of women. From 1876 to 1878, he engaged in the drug business. He organized the Finney Drug & Medicine Company in 1890.
His siblings settled in Wausau; Big Stone County, Minnesota; and Chicago. Dr. Finney was the first mayor of Clintonville, serving two years, assisting in framing the city charter. He was also president of the village and school boards. In 1888, he was Presidential elector for the 9th Congressional District.
In addition to the Sons of Veterans, he was also a member of the Masons, the Odd Fellows, the Knights of Pythias, New London Chapter 64, Oshkosh Commandery #11 and the Wis. consistory and Mystic Shrine, Tripoli Temple.
In 1873, Dr. Finney married Isabelle O'Brien at Oshkosh. Their son, William Harrison, studied science at UW and son John Alexander died at the age of two.
A believer in continuing education, he attended two courses of lectures at Chicago's Bennett Medical College, graduating in 1881. In 1893, he attended Rush Medical College in Chicago, graduating the following year. He also attended clinics in Philadelphia.
Dr. John Finney is buried in the Masonic Section of Oshkosh's Riverside Cemetery, Block E, Lot 8.
---
Information Sources:
Commemorative Biographical Record of the Upper Wisconsin Counties; J.H. Beers & Co., Chicago 1895
Press Forward the Good Work, History of the Wisconsin Dept. SUCVW by PCinC Stephen Michaels; Wisconsin Dept. SUVCW 1998