"Our Department's Window"
As the excitement over the first National GAR Encampment coming to Wisconsin in 1889 was reaching its climax, many young men were being drawn to membership in the Sons of Veterans, USA. One of these was Milwaukee's Albert G. Braband. He was 18 years old and a baggage and ticket clerk for the Wisconsin Central Railroad.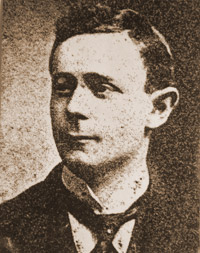 Albert G. was born in March 1871, the oldest of three children born to Albert, Sr. and Mary Braband. Albert had emigrated from Prussia in 1848; Mary from Baden, Germany. When the Civil War broke out, Albert, Sr. enlisted in Co. E, 27th Wis. Inf. and was promoted to sergeant before being mustered out after three year's service. After the war, he returned to Milwaukee, worked as a moulder and was a member of Robert Chivas GAR Post #2, living on the city's near south side, a few blocks from where Rank & File Post #240 was later established.
When Rufus King Camp #29 was reorganized as Badger Camp #1 in 1892, Albert G. became one of its charter members. He quickly moved up to command the Camp in 1895. At the same time, he sought responsibility at the Dept. level and in turn, was elected Sergeant Major, Senior Vice Commander and National Encampment delegate. He was 27 years old when he was elected Dept. Commander at the Dept. Encampment in Milwaukee on May 17, 1899.
Through the initiative and ability of Albert G. Braband, we today have a personal window into our Department's status at the turn of the last century. Just prior to the 1899 Dept. Encampment, DSVC Braband solicited a narrative from each of Wisconsin's Camps with photos of their prominent brothers. Another Dept. pioneer, F.J. Walthers was invited to write an introduction. A list of brothers who had served in the Spanish American War concludes the work. His printing company published this material in a booklet, supported by paid advertisements, and the booklet was distributed at the encampment. A copy survives in the Wisconsin State Historical Society archives in Madison.
The 1899 Dept. Encampment was one of the best attended ... 156 Sons marched in the parade. After sessions at the Milwaukee University Building, visitors enjoyed a trolley ride around the city. The Milwaukee Camps hosted a performance at the Alhambra Theater and an informal luncheon at the theater café afterwards.
Grave trusts and grave cares awaited Braband as Dept. Commander.
Four days after the Encampment, Sons Founder Maj. A.P. Davis passed away. And then, on June 12th, a tornado touched down in the town of New Richmond, decimating homes and businesses. DC Braband's July 1st Dept. Orders solicited help for the sufferers. The town's Tom Porter Camp #2 was unable to recover and was eventually disbanded.
In the aftermath of the Spanish American War, there was a general lack of interest in the military. Between 1898 and 1901, the Wis. Dept. membership dropped from 683 to 502 and a third of its Camps (31 to 18). HR #5562, supporting the Sons as a military reserve, never made it out of committee.
The country had just begun to recover from the Panic of 1893 with its economic depression and widespread unemployment. The Milwaukee Sentinel reported, "The Sons of Veterans has had hard work in past years to maintain its organization, but its workers do not propose to let the members become disheartened ..."
There were some bright spots: Kenosha's Sons were reorganized as C.G. Zimmon Camp #4 with 29 members. Racine's Charles Filer Camp #31 was one of the most successful with over 100 Sons and prospects frequently showing up to its meetings.
DC Braband presided over a lightly attended 1900 Dept. Encampment in West Superior, as many could not afford the trip. The Nat. Encampment had proposed sponsoring a Military College in 1899. Braband remained optimistic. He suggested that once "Memorial University's" site was established, the Dept. could raise about $1,000 for its support. The Dept. also contracted with The Banner publishers, making the paper the Department's official organ. The per capita was raised five cents to cover the cost.
After his term as Dept. Commander, he saw to the successful merger of Badger Camp #1 and C.K. Pier Camp #35 in December 1901. He remained active for several years until his business interests took off. He had worked as a secretary at a print shop, but was soon promoted to business manager and eventually, became part owner of the Braband-Voss Company.
Albert G. and his two sisters, Emma and Lilla, lived with their parents until their parents' death, Albert Sr. in 1912 and Mary in 1918. Emma and Lilla, who were teachers, inherited the family home. 49-year old Albert married 27-year old Andrea Monsen (21 Apr 1892 –19 Jun 1971) and moved to Bay View, where they raised a daughter, Rhea. (1923-1994). They were members of St. Luke's Episcopal Church.
He remained a member until ill health prevented him in 1943. Albert died in 1945, at the age of 74, and was buried with his family in Lot 74 of Section 9 in Milwaukee's Forest Home Cemetery.
Researched and written by PCinC Steve Michaels.
---
Information Sources:
Press Forward the Good Work, The History of the Wisconsin Dept SUVCW (Vol 1) by PCinC Stephen A. Michaels (1997)
Ancestry.com
Minute Books, Financial ledgers and Sketchbooks, C.K. Pier Badger Camp #1
Forest Home Cemetery, 2404 W. Forest Home Ave., Milwaukee
Milwaukee Sentinel, April 30, 1912 and June 21, 1971