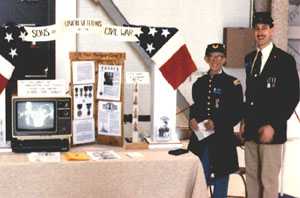 PDC Herman Black with Camp 1 Commander Steve Michaels at the 1996 128th ANG open house.

Herman Black was born November 3, 1920, in Sault Ste. Marie, Michigan, and moved to Milwaukee as a young man, where he worked as a truck driver and porter. In 1955, he married Raeona Ollenburg, who was active in both Auxiliary #4 and the Wis. Dept. Auxiliary, and recruited him into the Sons.

He joined C.K. Pier Badger Camp 1 on June 8, 1956 and served in various positions before becoming Camp Commander in 1963, a position he held for 20 years. In preparation for each Memorial Day, with the help of area Scouts, Herman placed hundreds of Flags on veteransí graves at Calvary Cemetery. He also actively supported the Campís annual Patriotic Luncheon.

Herman and Raeona were regular attendees at the National Encampment. He served one term as National Historian. In 1963, he represented his Camp and Dept., accepting the U.S. Grant trophy for the greatest increase in membership. For many years, he presented one of the Departmentís U.S. Grant awards to a deserving ROTC cadet at Marquette University.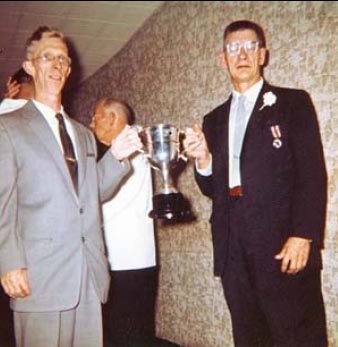 Silver Loving Cup presented to the Wisconsin Department on 20 August 1963 for having the largest membership increase. The Cup was presented by U.S. Grant III. Shown are Herman Black and PDC Edward Biering after accepting the Cup at the 82nd National Encampment in Miami Beach, Fla.

Herman was elected Wisconsin Dept. Commander in 1966 and re-elected in 1967. Previously, he had served as Dept. Press Correspondent, Chaplain and Council member. After the top slot, he served as Dept. SVC, Secretary/Treasurer and Council member.

He joined the Sons of Veterans Reserve in 1972 and was commissioned a 2Lt. in 1977, shortly after the 4th Military District organized a Headquarters Company. He was promoted to 1Lt. in 1988. He was very proud of his uniform, participating in parades and ceremonies throughout southeastern Wisconsin. During more recent Memorial Day parades in Milwaukee, when he could no longer march, he took his post as guard, next to the reviewing stand.

After the death of his wife in 1994, Herman continued to volunteer several days a week at St. Camillus Health Center in Wauwatosa.

During Camp 1ís dormant period, Herman safeguarded the Campís records and memorabilia. When Camp 1 was reorganized in 1995, Herman willingly took an active role as JVC, often attending activities in uniform. His declining health forced him to retire to a nursing home in 1999.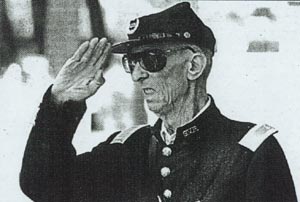 In 1997, PDC Black participated in Memorial Day ceremonies at Milwaukee's Calvary Cemetery.

Herman passed away on Thursday, October 13th, 2005 at the age of 84. He and Raeona had no children, so there was no immediate family or next of kin. His family and social life for much of his life revolved around the SUVCW. His power of attorney, a nursing home staffer, recognized this and welcomed the Sonsí participation in Hermanís life.

Visitation took place on Wednesday, October 26th, at Harder Funeral Home, 18700 W. Capitol Dr., Brookfield. Camp 1 Brothers Steve Michaels, Victor Share, Dean Collins, Rev. Maurice Felton and Kent Peterson conducted the Sons funeral ritual. Hermanís ashes were interred at Valhalla Cemetery.


PC-in-C Steven A. Michaels
C.K. Pier Badger Camp #1
---
Maintained by: Dept. Signals Officer
Last Update:
Sons of Union Veterans of the Civil War
Department of Wisconsin