Riding the Wave of Pre-War Patriotism
At the 30th Wisconsin Dept. Encampment, held in Neenah-Menasha in June 1913, Otto F. Berner of Antigo was elected Dept. Commander.
Br. Berner, born June 23, 1883, in Gibson, Manitowoc County. He was one of seven children born to Henry Sr. and Caroline (Zander) Berner, German immigrants who had spent a year in Canada, settled in Gibson and then moved to Antigo in Spring 1884.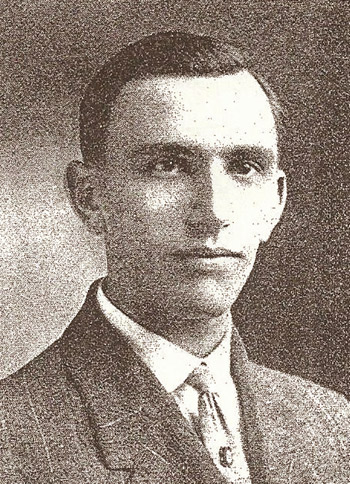 Their uncle, Frederick, had enlisted in the 32nd Wis. Infantry in November 1863 and had been taken prisoner at Pond Springs, Alabama, the following July. He died in captivity on August 14, 1864.

Otto graduated from Antigo High School in 1902 and went to work with his brothers Henry Jr. and Fred in The Berner Bros. Publishing Company, where he served as vice president. The company published the Daily Journal, the Antigo Journal and the Farmers Journal, all weeklies. It also conducted a regular printing, bindery and loose-leaf business. The business incorporated in 1905.

On September 28, 1904, Otto married Lena Laura Stahl (1885 - July 8, 1968).

Otto and his brother, Henry, Jr., helped form Antigo's W.H. Blinn Camp #7 with 25 charter members in May 1910. The Camp had two previous incarnations: Burton Millard Camp #5 (1884 - 1888) and J.C. Fremont Camp #91 with 21 charter members (1890-1900). Camp #7 was named after a charter member and the first commander of the Antigo's John A. Kellogg GAR Post #78. It was bolstered when the 1912 Dept. Encampment was held in its fair city and Br. Berner was elected Dept. Sr. Vice. Commander.

The Department's growth continued with Commander Berner at the helm. On June 23rd, 1913, Oneida Camp 23 was chartered and that October 16th, Erastus Stannard Camp #47 was organized at Cleveland, Wis.

But this was nothing compared to the organizational activity that winter. Richland Center Camp #5 was chartered on January 16th. Sadly, it lasted only a year. On February 4, 1914, a camp was organized in Prairie du Chien with future Dept Cmdr. William R. Graves as commander. On February 11th, camps at Kaukauna (Paul H. Beaubieu #43) and Manitowoc (Dan Burton Camp #46) were rechartered. A camp was rechartered at Rome, Wisconsin, on February 16th and a new camp (#48) was organized at Merrill on March 27th. That May, camps were chartered at Edgerton (Alex B. Campbell #39) and Evansville (Capt. J.M Evans #12).

By the time of the 1914 Dept. Encampment, the Wisconsin Sons membership had grown to 1,657 in 49 camps.

Upon stepping down as Dept. Commander, Berner served as the Department's Assist. Organizer. In 1916, he was the Dept. Inspector. In June that year, Otto set in motion a series of steps, with the approval of the state adjutant general. He used his organizational skills to form an infantry company in Antigo. By July, 185 volunteers had formed Company G of the Wisconsin National Guard with Otto as 1st lieutenant. Once war was declared, the company became the 107th Trench Mortar Battery Company. The company saw action in France on the Belgian border. After the war, he served as a captain in the coastal artillery corps.

In both 1922 and 1923, Br. Berner was elected to the Dept. Council. On Memorial Day, 1929, Camp 7 placed a plaque at Antigo's Grand Army monument, which stood in Antigo's Cemetery. It listed the members of the city's GAR Post. The Post lasted until 1936 and the Camp disbanded four years later.

Br. Otto Berner died September 28, 1947, at age 64 and was buried in Antigo Cemetery (Block 4, lot 76).


Biography researched and compiled by PCinC Steve Michaels.
---
Information Sources:
Find-a-Grave
History of Langlade County, Wis., from U.S. Gov't Survey to Present Time with Biographical Sketches by Robert Dessureau, Berner Bros. Publishers, Antigo, WI, 1922
History of Wisconsin, Its Story & Biography 1848-1913 (Volume 8) by Ellis Baker Usher; Lewis Publishing Co., Univ. of Minn., 1914
Langlade County Historical Society Newsletter, Summer 2014