PDC Ronald M. Aronis was elected our Department Commander at the Dept. Encampment, held June 12th, at King, Wisconsin. He is the second Associate to be elected to the high post in the Department's 123-year history.
Br. Ron Aronis joined the SUVCW at the 1969 National Encampment in St. Louis, where he lived at that time. He taught printing and helped print the 19th Ohio Infantry's newsletter. He was active in reenacting and the Sons of Veterans Reserve (SVR), helping organize Battery I, 1st Missouri Lt. Artillery.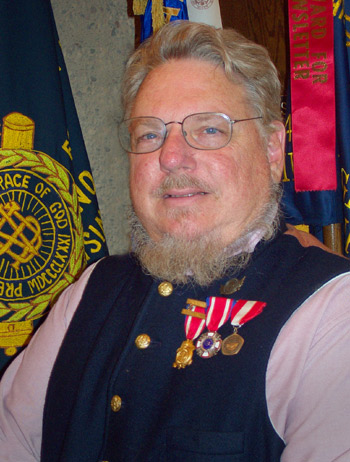 Br. Ron changed careers and moved to Wisconsin, rejoining the SUVCW and the SVR in 1985. Shortly thereafter, he and three other members reorganized Cushing's Battery. At that time, he was a member of Ammi Hawks Camp #3 in Oconomowoc.
In 1988, he became a charter member of Alonzo Cushing Camp #4, headquartered in West Bend.
In 1992, Br. Aronis volunteered to serve as Dept. Secretary. Previously, the Auxiliary had been handling the Department's administrative responsibilities. Over the next 12 years, Ron ensured that the Department's membership and per capita tax were correctly reported to National in a timely manner.
At the 2002 National Encampment in Springfield, Illinois, he was presented the rank of Past Department Commander, in recognition of 10 years of service as Department Secretary.
In 1995, he assisted C.K. Pier Badger Camp #1 with its reorganization efforts and a year later, became a dual member of that Camp. Since that time, he and his unit supplemented commemorative and memorial activities organized by the Camp.
In 1997, he inspired members to renew a tradition. On Memorial Day weekend, Camp and Battery members plant flowers and maintain Cushing Memorial Park before holding a public program there. He often served as spokesman for the SUVCW at Delafield Council meetings on matters pertaining to the Park. In 1998, when a bronze plaque was stolen from the Cushing monument in the park, Br. Aronis acted as uniformed spokesman, appearing on TV and in newspapers. The plaque was returned within two weeks. He continued to speak to schools, Civil War clubs, genealogical societies about Union soldier sacrifices and the SUVCW.
After serving in various staff positions in Camp #4, he organized Alonzo Cushing Camp #5 in 2000 and served as the Camp's Commander for two years. In 2000, he was also presented the SVR's Meritorious Service Award for his contributions to artillery organization and safety.
Outside of the SUVCW, Ron works as an engineer at a circuit board engineering company. He is the father of two grown children: Michael, who is an SUVCW member, and Laura. He also has two grandchildren. His hobbies include N-gauge model railroading and home repair. He is researching a possible Civil War ancestor on his mother's side.
---
Maintained by: Dept. Signals Officer
Last Update: 29 July 2017
Sons of Union Veterans of the Civil War
Department of Wisconsin