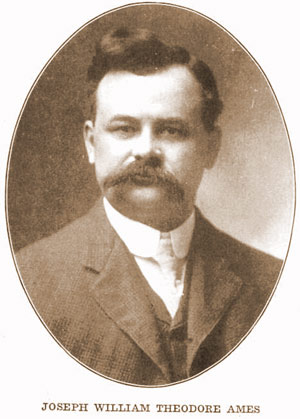 At the 1900 Wisconsin Department Encampment, held June 20-21 at West Superior's Terminal Hall, J.W.T. Ames of River Falls was elected commander. Ames was a graduate of Lawrence University at Appleton and a teacher of 13 years experience in graded and high schools. He had been principal at Humbird in Clark County for three years and at New Richmond for five years. He had formed the high school track team there in 1896 and even briefly played on the school football team. He was now termed an "efficient" principal of River Falls High School in St. Croix County and was serving his second year.
His father, Rev. William D. Ames, was a Methodist Episcopal Church minister. His lineage had been traced to 1630, when his forebears had come from England to Massachusetts. During three months of the Civil War (June 16th to September 24, 1864), he served as chaplain of the 41st Wisconsin Infantry. Throughout his life, he was a popular comrade of the GAR.
Joseph William Theodore Ames was born November 15, 1865 in Stevens Point. He was the second oldest of seven children and the oldest of four sons. When he was growing up and going to school in Winnebago County, he was known as "Willie." He also attended graded schools in Dane and Rock Counties, and high school in Fond du Lac. He graduated from Lawrence in 1887 with a BA and in 1891 with an AM. He then began using his first name, "Joseph."
He married Nelle S. McKinney of Lancaster in 1891 and they had two children, Dorothy, (1895) and J. William (1905).
In April 1897, Br. Ames mustered in Diamond Bluff's John A. Otis Camp #38 with 17 charter members. At the time, he was captain (commander) of New Richmond's Tom Porter Camp #2, a Camp of 19 members. Camp #2, organized in 1895, was decimated by the 1899 tornado that whipped through town. Br. Ames fortunately left in 1898 to look after his dying father, who passed that November, and to take the job of principal at River Falls. He served on the Dept. Council in 1898 and again in1902.
At the time of his election to Dept. Commander in 1900, Br. Ames was a member of River Falls' Lovell Camp #48, a camp of 17 hard workers. The Camp, organized in 1897, was one of 23 Camps and 500 members in the Department. Br. Ames was a man of few words, publishing several department orders of one page or less. He, like many commanders before and after him, would preach recruiting. His administration's motto was "A Doubled Membership."
After his term as Dept. Commander, he continued to work as the principal at River Falls High School, supervising 13 teachers and 500 students. He conducted institutes at Chippewa, Clark, Jackson, Polk, Pierce and St. Croix counties and taught in the summer school of the River Falls State Normal.
Br. Ames served as president of the People's Lecture Course Association of River Falls for ten years. He served as president of the Wis. State Teachers' Assoc., was a member of the Masons and the Methodist Episcopal Church. He was also chairman of the Wis. board of control of inter-scholastic lyceum work.
Br. Ames was superintendent of schools in Waterman, Illinois, before accepting a teaching position at Eau Claire's State Normal School in 1920. He moved there with his wife and son, and taught history and sociology to 275 students.
On April 25, 1924, he was on his way home from a State Normal School Teachers' Association meeting in Madison. He became sick with acute indigestion, brought on by diabetes, and was taken off the train at Baraboo and rushed to St. Mary's Ringling Hospital. He died a short time later at the age of 58.
His wife, Nellie, then lived with their daughter's family in Chillicothe, IL. She died on September 23, 1956 at age 90. Both are buried in Eau Claire's Lakeview Cemetery.
---
Information Sources:
Ancestry.com
Captiol Times, Madison, WI, April 26, 1924
Early History of Wisconsin, c. 1912
Lakeview Cemetery, Eau Claire, Wis.
L.E. Phillips Mem. Public Library, Eau Claire, WI
Stevens Point Daily Journal, Stevens Point, WI, August 26, 1924
Wisconsin State Journal, Madison, WI, April 26, 1924