---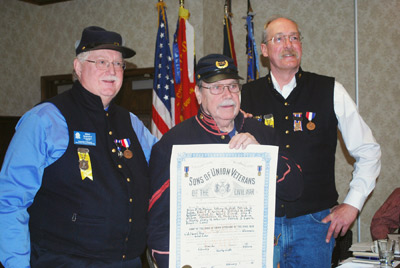 Camp meetings
The Camp meets at 7 p.m. on the first Thursday of each month at the Town of Norway Town Hall [map]. The Town Hall is located adjacent to Col. Heg's burial site at the Norway Lutheran Church, and across the road from Heg Park. There is a monument to Heg at the park, and his original homestead house is located a short distance from the park.
At right, three of the Camp 15 charter members are pictured with the Camp's new charter, which was signed by SUVCW Commander-in-Chief Tad Campbell on Feb. 7, 2015. From left to right: PCC Brian McManus, Patrick Kulas and Camp Commander Jeff Graf.
---
About Col. Hans Heg
With the outbreak of the Civil War, Heg was appointed by Governor Alexander Randall as colonel of the 15th Wisconsin Volunteer Regiment. The 15th Wisconsin was called the "Scandinavian Regiment" since its soldiers were almost all immigrants from Norway, with some from Denmark and Sweden. It was the only all-Scandinavian regiment in the Union Army.
Heg commanded the regiment during the Battle of Stones River. In response to his conduct at Stones River, Maj. Gen. William Rosecrans placed Colonel Heg in command of the newly formed 3rd Brigade of the 1st Division, XX Corps, Army of the Cumberland, on 1 May 1863.
On 19 September 1863, Colonel Heg led his brigade at the Battle of Chickamauga, where he was mortally wounded. Heg "was shot through the bowels and died the next day." Upon hearing of Heg's death, Rosecrans expressed regret, saying he had intended to promote Heg to brigadier general. As it was, Colonel Heg was the highest-ranked Wisconsin soldier killed in combat during the Civil War.
Heg was buried at the Norway Lutheran Church Cemetery near Wind Lake, Wisconsin. Camp 15 meets at the Norway Town Hall, which is a short distance away.
---
Camp Publications
The current Camp 15 By-laws are available for download by Camp members. While identical in content, this website version does not contain the Camp and Department Commander's authorized signatures. This document is designed to be printed double-sided.
Newsletters
---
Camp Calendar

Days the flag should be flown
1 May:
Loyalty Day
3 May:
Camp Meeting, 7 p.m., Town of Norway Town Hall
28 May:
Memorial Day
2 June:
135th Annual Dept. of Wisconsin Encampment, Wisconsin Veteran's Home, King, WI (hosted by Old Abe Camp 8)
Encampment Registration Form
7 June:
Camp Meeting, 7 p.m., Town of Norway Town Hall
14 June:
Flag Day
4 July:
Independence Day
Union Grove Fourth of July Parade
5 July:
Camp Meeting, 7 p.m., Town of Norway Town Hall
9-12 August:
137th National Encampment, Sheraton Framingham Hotel and Conference Center, Framingham, MA
---
Recent Activities
| | |
| --- | --- |
| | Camp 15 Brothers at the dedication of the headstone for Pvt. Franz Wozniak in Poniatowski, WI. Pvt. Wozniak's grave was previously unmarked, but thanks to several years worth of efforts by Camp member and great-great grandson Patrick Kulas, Wozniak has been honored and not forgotten to history. |