Our Auxiliary members, on national, state and local levels participate in ceremonies and programs to commemorate events and honor leaders and personalities of the Civil War period and events important to the history of the Grand Army of the Republic.
Representatives of the National Organization attend wreath laying ceremonies at the impressive Lincoln Memorial on Lincoln's birthday, Lincoln's Death Day ceremonies at Lincoln's Tomb, at Remembrance Day ceremonies in Gettysburg, and at the Altar of the Nation, at New Hampshire's Cathedral of the Pines.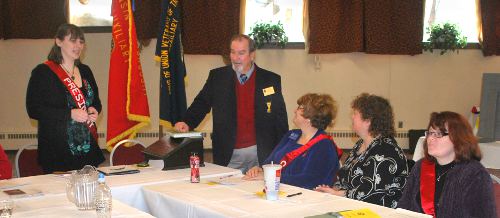 Dept. Auxiliary President Allison Michaels introduced SUVCW Commander-in-Chief Brad Schall during the 2011 Mid-Winter meeting.
Local Auxiliaries encourage patriotism through the promotion of community Memorial Day services, participation in parades and helping publicize the observance of national holidays. Volunteers serve as guides at the G.A.R. Civil War Museum and Library. Dressed in authentic reproductions of Civil War period clothing, members present talks and first person impressions of noted Civil War personalities at schools and community meetings.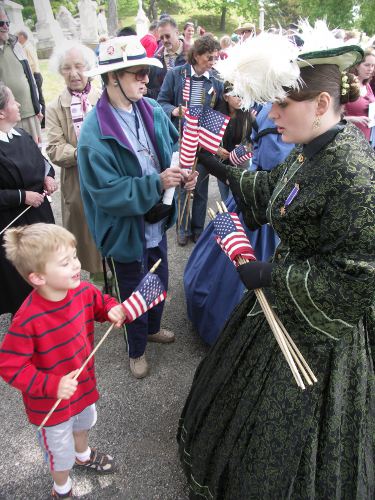 Charitable deeds are encouraged and are an important part of our Auxiliary life. Visits are made to nursing homes and hospitals providing musical entertainment, parties and companionship to the residents. Lap robes are knitted and books collected for distribution to Veterans Administration hospitals. Volunteers drive the elderly and disabled to church, doctor's appointments and food markets.
(Left) Auxiliary members participate in annual Memorial Day ceremonies honoring Civil War Union veterans and the veterans of all wars. At Milwaukee's Calvary Cemetery, Sr. Allison Michaels distributes American flags to people that attended the ceremony, who then in turn placed the flags on veteran's graves.

Auxiliary to the
Sons of Union Veterans of the Civil War
Department of Wisconsin

Comments to PNP Danielle Michaels.
Last Updated: